After Chris's death in January 2004, a group comprising Alison Jones, Margaret Fagan, Mark Gregory, Margaret Walters and Christine Wheeler began work towards producing a CD of all the music Chris wrote throughout his life. The workload is substantial, but we are very excited about the project and know that it is important to commemorate Chris's work in this way.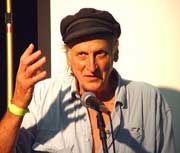 Chris went out of his way to assist others in their musical endeavours, and never got around to collecting his own work on one CD. The emerging product, as we plan it, is a unique compilation, showcasing the voices of some of Australia's finest, and some overseas artists as well – Roy Bailey, Martyn Wyndham-Read, Priscilla Herdman. All of these singers have had direct and affectionate links with Chris over the years. We plan to launch the CD at the National Folk Festival, Canberra, at Easter 2006.
Many of Chris's songs are already recorded by various musicians, and many have already given us permission to use their work. Should there be a profit from the sale of the CD, we envisage a reprint of Chris's book "The Songs of Henry Lawson", now sadly out of print but still being sought.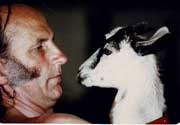 Work towards the making of the CD is voluntary, and we have the ongoing support of the Folk Federation of New South Wales, but the costs of professional production are considerable. At this point the folk community has generously donated about $4,000, and we estimate that the double album will cost about three times that. This is where you come in!
We are asking interested individuals, folk clubs and festivals to sponsor the project, at a flat rate of $200. In return for your sponsorship, we will acknowledge you in the CD booklet, and include, if you wish, a brief quote giving your reasons for sponsoring the CD. We will also send you three CDs after production.
How to become a sponsor
Download a sponsorship form from the website http://chriskempster.net/. and send a cheque or money order for $200 to:
Folk Federation of NSW: Chris Kempster Project
PO BOX A182
Sydney South 1235
NSW AUSTRALIA
Be sure to include your name and address! If you decide to send a sponsor's comment, please limit it to no more than 50 words.
You can keep up to date on the Chris Kempster Project and get additional sponsorship forms at the website: http://chriskempster.net/