Richard Mills (1948-2005)

Obituary
By Alison Boyd
Posted Monday, November 7, 2005
I have to admit to not knowing Richard as closely as many others, but he supported me when I was first starting off in the Australian folk scene in the mid 90's, and subsequently in various clubs & festivals which I helped to organize, (Western Suburbs Folk Club, Toongabbie Music Club, Cursed Toongabbie Festival, & St Albans.)
I first met Richard when he was running the Loaded Dog in the early 90's. It wasn't long after that when a carriage full of folkies boarded the train at Parramatta and sang all the way to Katoomba and back, to watch Tom Paxton perform at the Clarendon Hotel. That was the night Richard got Tom Paxton to autograph his guitar, something of which he was very proud.
I have a really vivid memory of one particular Loaded Dog Saturday night when Richard had signed himself out of hospital (against medical advice) so he could be there even though he was due to have bypass surgery a few days later. I watched him go to the front and do his floor spot as usual, and as a nurse I worried (as did many of the audience) as his colour got worse and he was obviously struggling to breathe. But "the show must go on" attitude kicked in, and he finished his set. Typical Richard!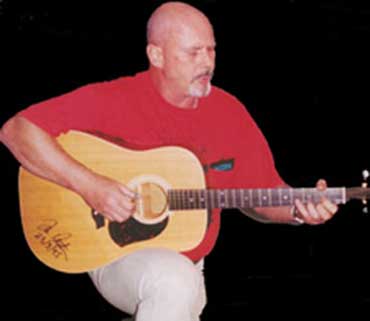 Sadly it was a heart attack which killed him on Thursday 20th October 2005.
The last time I saw him was when I booked him as a performer for St Albans in 2002. I remember him clearly saying "This is how folk music is supposed to be, I got disillusioned with it for a while, thanks for encouraging me to be a part of it again."
Thanks for the music and the chats Richard.
Rest in Peace.
The following is written by Richard and taken from his website,
which also contains many of his poems and songs, & photos of the nude skydiving!!
Richard described himself as: -
Singer, songwriter, poet, author, wordsmith, handyman, human in recovery, being on a spiritual journey back to the beginning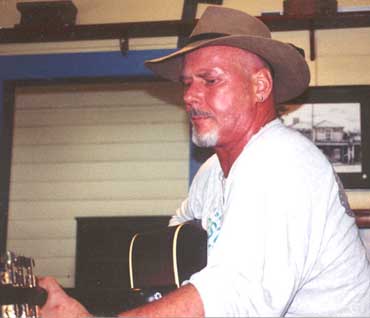 Growing up in NZ through all the excitement of Viet Nam, Martin Luther King, the Birmingham, Alabama, confrontations, and the protest movement of the sixties, Richard used to wag school in Auckland to sing at the Uptown Gallery, Poles Apart, Wynyard Tavern, Henry VI and later several coffee bars where he started folk nights.
He left school to throw a guitar across his shoulders and ramble around NZ and Australia in the true folkie tradition, with a denim jacket, black suede high-heeled boots, and carefully calculated folkie image of the lonesome, homeless, haunted rambler.
He lived in Wellington at Cottleville, singing regularly at The Balladeer, Monde Marie and Chez Paris, then went to Australia at 17, arriving with $20 to ramble around Sydney, Melbourne, Brisbane and all points between. (He sent his parents a postcard from Wellington Airport: Dear Mum and Dad, by the time you read this I will be in Australia.)
Cutting his teeth on Peter, Paul & Mary, Seeger, Paxton, Dylan, Baez and Collins, not to mention Tom Rush and Ewan McColl, Richard played at the Brisbane Folk Centre in 1966, and in Melbourne lived on and off on a couch upstairs at Franks Traynors, regularly sharing the stage with names like Margaret RoadKnight, Martyn Wyndham-Read, Danny & Gordon, Brian Mooney.
Returning to NZ Richard moved to Christchurch, living at the notorious folkie lair at Holly Road, singing regularly at Phil Garland's The Folk Centre.
Returning to the folk scene in 1995 with a new maturity of vision and voice after many years away, Richard has come back stronger than ever, finding his true voice after losing it completely in a motorbike accident in 1990, writing powerful songs about life, love, reality, relationships, truth and other catastrophes