Rhymer strikes "GOLD"!

By Graeme Johnson
Posted Monday, February 28, 2011
Report on the Country Energy Tamworth Bush Poetry Performance Competition Jan 2011
Latest news from "The Rhymer from Ryde"
"Rhymer" strikes "GOLD" to Win the Original Section of Golden Damper Performance Competition.
The Tamworth Country Music Festival has long been known as the nation's 'mecca' for all things Country (in terms of music) but you may not also be aware that it is home to the Tamworth Poetry Reading Groups Landmark competition for Bush Verse known as the "Golden Damper" Awards.
On a par with the Australian Bush Poetry Association's Australian Championships, Tamworth's "Golden Damper" Awards is one of the 'premiere' events on the annual Bush Poetry calendar with a quality of performance standards 'second to none'. It is quite simply the competition everyone wants to win.
This years Host & Mc for the Finals (held in the huge "Blazes" auditorium in West's Leagues Club) David Proust commented during the course of the proceedings that "winning this particular event has been the launching pad for a great many of the 'top poets' performing around Australia today".
This year's lucky winners were Graeme Johnson (of NSW) in the Original Section and Noel Bull (from Vic) in the Established Section. Graeme won with an original comedy poem off his new 2 CD set "Home Brew" called "Barangaroo & the Pontiff too", a little ditty mixing the pageantry of World Youth Day in Sydney in 2008 with a misunderstanding by some 'Country Bumpkins" involving World "UTE" Day.
Noel Bull recited Murray Hartin's magnificent poem "Rain from Nowhere" to rapturous applause to win the Established Section.
In the Original Section the author can choose comedy or serious verse, whilst in the Established Section the choice is somewhat wider, being able to select from Non-Original work, be it comedic or serious, Modern or Traditional.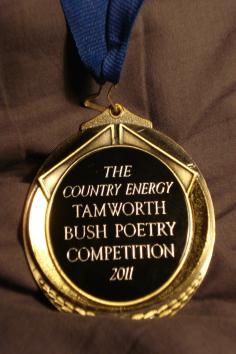 With such a 'wide scope' to choose from the audiences at the heats and finals were treated to a smorgasbord of the best of "Aussie Bush Verse" that continued to "Wow'' the crowd to the very last poem spoken.
There are 3 heats held over three days with 3-4 performers (Males compete against the Females) from each heat in each section moving on to the Finals on the final Saturday of the Festival.
"Blazes" Auditorium was 'packed to the rafters' to watch the tension mount as the morning progressed with the audience encouraged to cheer wildly and support their favourite poet. The Winner in each section wins $300 cash plus a lovely Medallion and the stunning "Golden Damper" trophy.
Golden Damper Performance Competition Results 2011
Original
1st: Graeme Johnson
2nd: Jim Riches
3rd: John Best
Established
1st: Noel Bull
2nd: Brenda Joy
3rd: Peter Mace