Liz Frencham – You and Me and My Double Bass

26th September - 16th October 2015
By Sue Barrett
Posted Sunday, July 5, 2015
If you've been to a folk festival in Australia, the chances are that you are already familiar with Liz Frencham's warmth, charm and musicianship.
Now Frencham's discography has been expanded, with the release of a new album (the third) in her duet series, You & Me.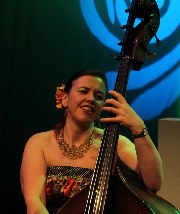 Liz Frencham studied jazz double bass at the Sydney Conservatorium of Music. Although she sometimes performs solo, Frencham is best known as an accompanist and as a member of bands (such as Jigzag, Dev'lish Mary and Jimmy The Fish) and of duos (including Frencham Smith and Red Juliet).
In discussing the dynamics of groups and duos, Liz Frencham says, "I love the variety of textures and the sheer brute musical force you can achieve with a larger group of musicians – but on the whole I much prefer duos. Organising a larger group, navigating musical decisions and all the other politics involved isn't attractive to me. But my preference is more influenced by the fact that it's much harder to find a large group that can act intuitively as one musical entity. A duo is fragile and feeling naked in all that space can be quite scary at times. You have to pay more attention to dynamic range because you don't have endless textures to play with. The reward is in the total focus you can give to each other, and the ease of becoming one voice. Compare dancing with a bunch of friends with the experience of being led and cradled by just one dance partner, moving as one across the floor totally absorbed by that one intense connection."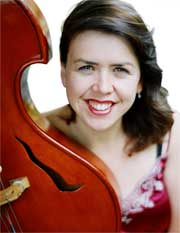 For musicians, musical creativity is a key matter, and according to Liz Frencham, "I am a text book ADHD artistic type and I thrive on variety. I've always looked for opportunities to work with as many different artists as I can. Finding ways to meld with so many different sounds really stretches me and energises me. I think I must have subconsciously known when I chose the double bass as an instrument that it was my ticket to an endless variety of musical encounters and lots of different genres and musical contexts. I often create challenges for myself to force myself to 'sink or swim'. I don't have the attention span for regular technique practise so if I want to gain a new skill I will often write a song or start a recording project that requires the skill – that way I have a deadline to meet and the whole process can be wrapped up in the excitement of a new creation. This live duet recording concept (You & Me – Vols 1, 2 & 3) is a great example. The idea grew out of my desire to be more comfortable recording my bass and voice simultaneously, as well as wanting to be able to explore more instrumental textures than just the regular bass plus chordal instrument combination."
Coming from a musical family, Liz Frencham has also performed with sister Karen Lynne, including at the Tamworth Country Music Festival. For Frencham, "It's always lovely to sing with Karen. She has an incredibly sweet voice, and our tambres are similar enough for the harmonies to blend well."
Liz Frencham commenced recording her You & Me duet album series a few years ago.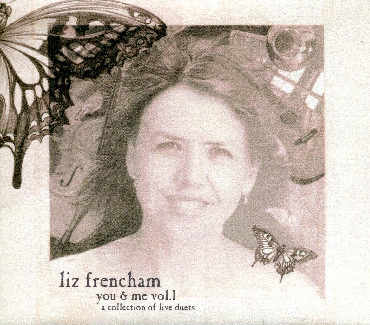 On You & Me – Vol 1, among Frencham's duet partners are Carl Pannuzzo, PJ Wolf, Robbie Long, Christine Wheeler, Gill Darbey, Mike Kerin, Martin Pearson, Steve Vella, Vincent Bradley and Doug de Vries.
Singer/songwriter Fred Smith is also part of Vol 1, with his song 'Four Strong Hands'. Liz Frencham and Fred Smith have performed a lot of sensitive/emotional material together and Frencham says, "I have learned over time that letting too much emotion seep into the delivery of a song doesn't help the narrative. If you want an audience to connect to a story, you've got to give them enough information to feel it, but leave enough neutral space for them to step into the song and have their own experience of it. It's my job to offer the story in a way that can reach the most people. The song is so important, every fibre of my being is trying not to get in its way."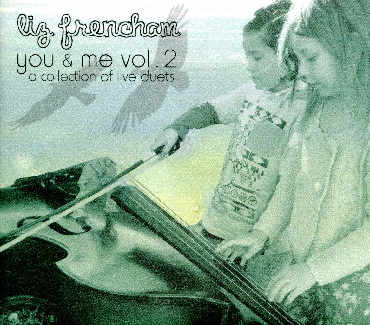 For You & Me – Vol 2, Frencham's duet partners include Andrew Winton, Miriam Lieberman, Damien Neil, Chris While and Julie Matthews, Thom Jackson, Mal Webb, Andrew Clermont, Ruth Hazleton and Nick Southcott.
Among the songs on You & Me – Vol 2 is Frencham's composition 'Down Where the River Flows', which she explains "is a call and response song that I started writing years and years ago. I found the lyric pieces in a book when I was trying to write for Jimmy The Fish and remembered my original melody immediately. I then wove them into a little fun sing-a-long song about needing to take a vacation away from the city."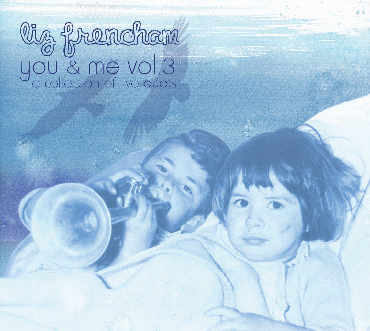 And for Liz Frencham's new album, You & Me – Vol 3, she is joined by another selection of interesting musicians, including David Bridie, Co-Cheól, David Francey, Alanna & Alicia Egan, Penny Larkins, Tim Clarkson, Pete Fidler, Robbie Melville and Tim Bradley.
To launch You & Me – Vol 3, Liz Frencham is teaming up on tour with Victorian songwriter John Flanagan (another of the Vol 3 duet partners), who is launching his single, 'Whatever Makes You Happy'.
According to Frencham, "We will be playing songs from all three duet albums and a selection of John's beautiful songs. And I'm inviting some of the original duet partners to make guest appearances."
Liz Frencham's You & Me tour began in late August and is taking in the Australian Capital Territory, New South Wales, South Australia, Queensland, Tasmania and Victoria.
Upcoming Tour Dates (N.B. for additional gigs/updates, check website)
Sat 26 Sept 2015 – House Concert, Newstead, VIC
Sun 27 Sept 2015 – The Boite Music Cafe, Melb, VIC
Thur 8 Oct 2015 – House Concert, Glebe, NSW
Fri 9 Oct 2015 – Tradewinds Folk, Newcastle, NSW
Sat 10 Oct 2015 – Taste Canowindra, Canowindra, NSW
Fri 16 Oct 2015 – Live at the Wharf, Gnomon Pavilion, Ulverstone, TAS
© 2015