Life memberships awarded to Colleen Burke, John Dengate, Warren Fahey & Frank Maher

Awarded and applauded - Life Membership Awards for long and outstanding service to the Folk Federation of NSW.
By Sandra Nixon
Posted Tuesday, February 26, 2013
At the 2010 Annual General Meeting of the Folk Federation of NSW 4 members were successfully nominated for Life Memberships.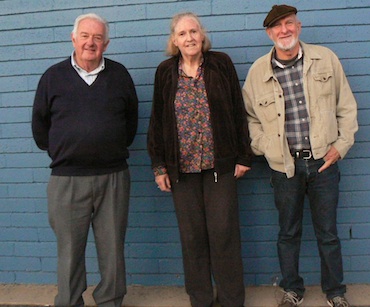 Colleen Burke, John Dengate, Warren Fahey & Frank Maher received their life membership because they were members of the initial committee of the Folk Federation of NSW (previously the Port Jackson Folk Festival), which was held (from memory) at Warren Fahey's Folkways, Paddington and have stayed on the journey with us, having retained their membership for the past 40 years
Certificates were presented to Colleen, Warren & Frank at the Federation's 40th Anniversary Concert at the 2011 National Folk Festival, and to John at The Loaded Dog Folk Club in June after the 2011 Annual General Meeting.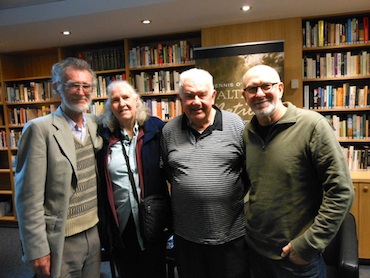 The four Life Members were eventually photographed together at the launch of Dennis O'Keeffe's book 'Waltzing Matilda' in June 2012 (Sandra Nixon photo)
*************************************

Colleen Z Burke
Collen's son Paddy described his mum as "awesome" which aptly describes this very talented woman.
Award winning poet and author who had numerous books published including ten poetry books. She's also the author of Doherty's Corner, the life and work of Australian poet M.E.J. Pitt and co-editor of The Turning Wave - Poems and Songs of Irish Australia. Colleen has had extensive experience as a facilitator of poetry and creative writing workshops.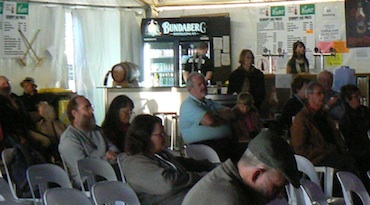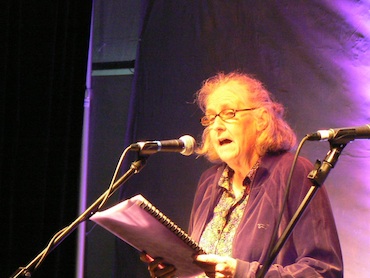 Her poetry, prose and auto-biographical writing are represented in several anthologies, including Wee Girls women writing from an Irish perspective.
Colleen was one of the founders of the Folk Federation. With her late husband, Declan Afflay, they worked tirelessly at producing the original Cornstalks, back then when Cornstalk was produced on a roneo (an onerous task) to promoting folk and traditional music in Australia, and supporting folk music ...

*************************************

John Dengate
John Dengate, the master of satire, parody, music, humour (often twisted), champion of the underdog and rejecter of all things pretentious was born in Sydney in 1938 and became interested in folk and rebel music while serving as a school-teacher in the Western Division of NSW at Menindee in 1958. Here he was fortunate to meet Brian Mooney who was a great inspiration to the young teacher and who remains a good mate.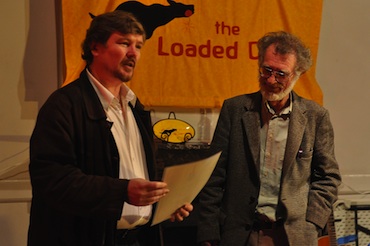 In 1962 John joined the Sydney Bush Music Club where he met and was influenced by such legendary names as Duke Tritton, Alan and Gay Scott, John Meredith and others. He became a member of the club's Concert Party and joined them entertaining at functions and for other groups. In the welcoming and warm embrace of the BMC John soon became known for his amusing political parodies and singer of traditional ballads. The Vietnam War and its supporters gave John a treasure trove of material from which he never shrank. Prince Charles' visit to Geelong Grammar in 1966 stirred his mind and pen to write Charley's Coming to Timbertop. Later, the infamous Premier of Queensland, Joh Bjelke-Petersen, was the subject of some well-crafted songs cleverly expressing his despotic behaviour. On Bjelke-Petersen's retirement from politics John was to state that it was a very sorry day for him to see such material come to an end; he'd lost his best source ever.
Ever the wordsmith, John still continues to pen clever poems and songs, though attending and performing at fewer functions these days. A clever song of John's was his parody of the Slim Dusty classic When the Rain Tumbles Down in July. Penned when the Pope visited Australia in July 2008, he, naturally, called it When the Pope Comes to Town in July. That song and the thoughtful poem showing his respect for the great poet John O'Brien, For 'John O'Brien' [Father Hartigan] are but two of many he has produced in the last couple of years. To this day he is still commenting on the political scene with vitriolic astuteness, with begging targets like Howard and Abbott. John's Pixie Rudd's Song and Maxine the Magnificent are also more recent efforts, showing that his pen and mind are still surgically sharp.
The title of John Dengate's double CD album, Australian Son, describes him well. As does a more recent poem of his titled Australian Made.

*************************************

Warren Fahey
This celebrated folkie and Australian treasure has clocked up some amazing achievements in his career including the Order of Australia.
Not only did he receive an order of Australia but he has been honoured with Australia's most valuable individual music prize – the Australia Council Don Banks Music Award 2010. This is the first time this award has been given to a performer of folk music.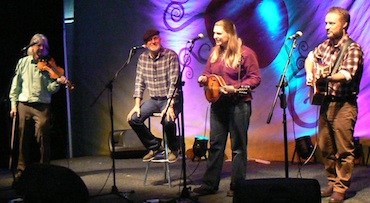 As well as a prolific collector and publisher of folk songs, yarns and music, he continues the tradition of Larrikinism in Australian culture and is highly respected among his peers.
As one of the founders of the FFNSW his contribution is invaluable.

*************************************

Frank Maher
Frank is a quiet organiser, the backbone of an organisation, the kind of person who doesn't want to push or be in the chair, but gets things done as he is meticulous and thorough. He's always there if needed. When his wife Ann was President of the Bush Music Club they worked as a team and encouraged BMC to join the wider folk community when the Folk Federation was being formed.
BMC events were family oriented, alcohol free and centred on Australian tradition and modern Australian folk song, whereas Folk Clubs met in pubs and were oriented more towards music from the British Isles and Ireland. The aims of the BMC and the folk venues differed, but Frank was influential in getting the two groups to work together, especially when organising the first big folk festivals. Frank was the BMC representative on the initial Folk Federation of NSW committee.
Frank was (and still is) a good singer, he also plays the bones and bush bass. He was a member of BMC's concert party in the 60's, and invited John Dengate to join. Along with Jamie Carlin, Frank was best man at John and Dale's wedding. He and Ann met at BMC and brought their three delightful daughters to BMC Singabout bush dances for many years. He was also a very good long distance runner in the 60s.
*************************************

The above biographies were taken from Cornstalk no. 423, November 2010.
Photos from the National Folk Festival by Sandra Nixon.
Photos from The Dog by Bob Bolton.