How do we get a spot at The National?

An open letter to the Australian folk fraternity
By The Wheeze & Suck Band
Posted Sunday, January 23, 2005
An open letter to the Australian folk fraternity from the Wheeze & Suck Band

OK – so it sounds like sour grapes? But this has become a real issue for us as a 'folk' band, trying to survive playing our music, and we don't want to just accept the sixth 'regretfully…' letter lying down.
In our early days, eight years ago, the fledgling W&S Band blagged its way onto the National Festival program for a couple of years; a one off spot year one, followed by a double booking the second year. For two years following that we received the 'regretfully…' letter in response to our application, fair enough, we'd had a run.
For two more years we again received the 'regretfully . . .' letter, disappointed but understanding. So four years after our last appearance we decided to make a more concerted effort with the blackboards and the bar sessions (bands are much harder to organise than individuals of course, with limited set up etc!), with a view to demonstrating our worth.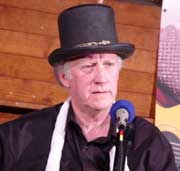 For three years now we have taken the band down from Sydney to Canberra, made the dawn hike to scramble to get our names on the blackboard, and pitched camp Saturday nights in the bar. What a buzz! We've literally torn the roof off the bar, with dancers and jugglers joining in massed jamming and set pieces for up to two hours each year (OK, some noses were put out of joint by our drumming but we set out shake up the status quo). The blackboards also went off big time – every appearance resulting in encores. We were continually approached by people asking when we are on the festival program. We expected the organising committee to be aware of this reaction. Do they actually talk to the Blackboard organisers to find out who made an impression? Over the last three years the W&S has made its mark from Newcastle down to the Illawarra, we have been receiving great reviews and tremendous support from St Albans, Newcastle Folk Club, Umina and Woy Woy, Sydney, and Illawarra. Yet every year for six years we are told by the National that the standard is getting higher, the places are limited etc. Jeez, we're not even expensive. Yet look at this year's Festival Program, do the more expensive names, particularly the overseas performers, look familiar?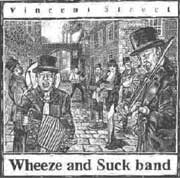 No disrespect to them, they are great and no doubt important performers. However, as well as some of them enjoying their n'th appearance at the festival, some of the o/s visitors who have got on the program in recent years have been less than special or satisfying. I have to ask myself, how the hell did they do it? The National is the only national showcase. Nobody wants it to become another Cambridge or Sidmouth, with a celebrity concert focus I'm sure.
Of course we know of other great bands and solo performers who can't get on either, not just ourselves. But why can't they get on?
This year's failure is the last straw; a year when we closed the Jamberoo Festival, when we are finalists in the MusicOz Folk Songwriter Awards, when we are invited to play Woodford, when audience reaction has never been better, we still can't get one spot, not one, at the festival we've supported as a band and individuals for the best part of thirty years. Even with a Copper Family singing workshop offered in the mix.For the Wheeze and Suck, for the foreseeable future, we won't bother. Unless that is, someone can tell us, what do we have to do to get on the National?
Still, have a great festival.

The Artist Formally Known As 'Pump'
Wheeze and Suck Band

(this letter has been censored by the Wheeze and Suck Band)