Folk Music - Near & Far

One person's experience tackling music from other cultures
By Mary-Jane Field
Posted Friday, March 9, 2007
Even though we were sure that the last time really was last time, the Cantando Choir ended up putting on two more performances of the Misa Criolla last year. Interest in this remarkable piece of music by composer Ariel Ramirez, which is based on Argentine folk music traditions, seems to continue, so we offered it again. And another is coming up in May 2007, too!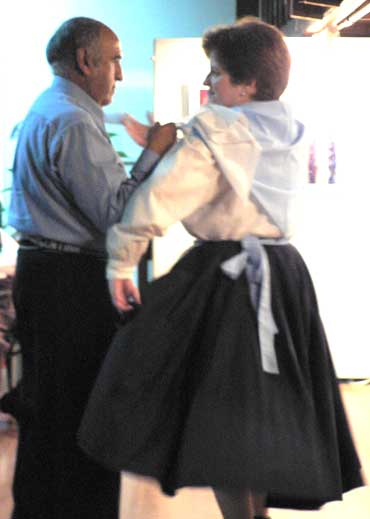 Sergio & Noemi Medina perform a traditional Argentine zamba.
Perhaps one reason for the Misa's popularity is the wonderful folk music it brings out. People all over the world seem to love folk music, even if they started life as rock 'n rollers or classical die-hards.
The experience of directing and teaching the Misa Criolla to an Australian choir has raised the vexed question of authenticity in language and culture. Who should take on music from 'alien' cultures? I spent years in Argentina with this music present in my daily life, but most of the people in the choir had rarely, if ever, sung South American music.
How can we get the right flavour?
My experience with the Misa choir has shown me that with a concerted effort people can understand and present music from foreign cultures with sensitivity and authenticity. But there has to be a commitment and a deep interest in getting close to the source of the music.
The Misa people worked hard at the language and the strange Argentine folk rhythms, dedicating a lot of time and effort in rehearsals and in special practises. There were many struggles with details such as getting one's tongue around unfamiliar syllables, or trying to feel rhythms that are hard to count out, let alone sing properly.
Ironically, it was when we had people of Argentine background in the group that I had the most difficulty in teaching the Misa music! We found that familiarity with the culture was no guarantee of getting it right; everybody ended up on a level playing (excuse the pun) field.
What about reading music?
Some people in the group were music readers, but the music as annotated is not easy to follow so that wasn't necessarily a big help. In any case, notes on staves can sometimes be just a pale reflection of the life and energy of a piece of folk-based music. Many aspects are almost impossible to convey through notation alone.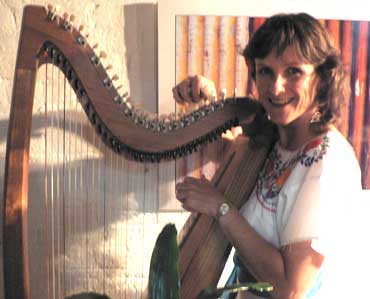 Anglo-Celtic harpist, Cliona Molins, has added South American music to her repertoire.
There were recordings to listen to, but a recording as the primary source for learning unfamiliar music can be a mistake. That recording can actually be someone's particular version of a piece of music, not necessarily the original version. To slavishly copy a pronunciation that could turn out to be a regional dialect, or a rhythmic touch that might be a variation of the basic, can turn out to be quite unworkable – and even a bit silly. So we did not rely on any one recording of the piece to guide us.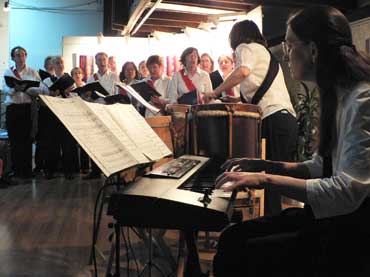 The end result of all Cantando's efforts has always more than satisfied me and I have been happy to present the Misa Criolla to audiences that included South American people who knew the music well, having practically grown up with it, as well as the general public.
From Bolivia to the Anglo-Celtic tradition
I discovered Bolivian music in Australia. It had not been part of my musical life in South America and in fact it was often looked down upon by the supposedly more sophisticated Argentines. What a total misconception of the richness of that ancient and varied culture! In spite of my lack of experience, once I heard it I just HAD to learn it and perform it!
I was encouraged to get involved by generous visiting Bolivian musicans, and have never looked back. I did follow through with special study, both in Bolivia with those same musicians, who welcomed me and taught me so much, and with local Sydney-based Bolivian music specialists with whom I still play today.
We can all spread folk music traditions
Anglo-Celtic music was something that I discovered when I left South America and went to the United States for junior high school. I immediately related to that form of music and fell completely in love with it. I have always been grateful that it was presented in the schools, as otherwise I might not have discovered it when young.
By the time I was in graduate school in Boston and listening to Joan Baez in the local coffee shop, this music was part of my deepest love.
My experiences have convinced me that each one of us can contribute greatly to the spread of all forms of folk music, with attention and with love and respect for the music and the cultures as our primary guides.
Mary-Jane Field