Despite the flack, music flows at Detention Centres

Do you have any unused musical instruments?
By Philip Feinstein
Posted Wednesday, February 27, 2013

Following the success of his music program at the Villawood Detention Centre over the past 3 years, volunteer music teacher Philip Feinstein has extended the program to all detention centres throughout Australia. And with the help of Uniting Churches, synagogues and other social justice organisations, people have been donating guitars, drums, pianos and many other instruments.
Knowing that he could not alter the political situation of refugees incarcerated in Australia, Philip has focused on 'the small picture' by conducting music lessons with fellow volunteer Adriaan Mees, as well as donating instruments to those behind the wire.
"It is amazing how many people are opposed to this idea by expressing anger at us for helping these unfortunate people" he said. "People in detention suffer enormous amounts of stress, so the program was initiated to help them ease the trauma. I know Australians have big hearts with people now donating instruments to all detention centres, including Christmas Island, Nauru and Manus Island."

Despite the outside flack, we have found SERCO staff at all detention centres to be very helpful and open to the music programs. Some of them even participate in the music jams.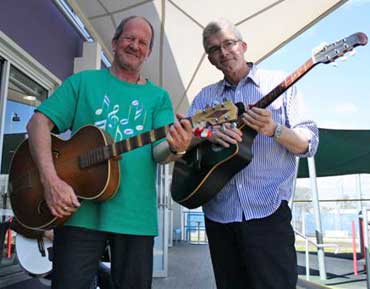 Philip is asking families, schools and other groups to dig up unused instruments and deliver them to the organised drop-off points everywhere. And he is asking musicians and other skilled people to consider donating their time to help detainees at the various centres throughout the country.
For the full history and a list of all drop-off points throughout Australia, plus contact details at all centres, see this link and scroll down.
To date, ABC, SBS and ABC Radio have run stories on the Villawood music program.
"With the blessing of the Department of Immigration and Citizenship (DIAC), SERCO and the Salvation Army, I see no reason for the success not to continue" he said.

For more information, contact
Philip Feinstein
(0415) 221 000.