Cantata for Domitila Workshops

Workshops available on request
By Mary-Jane Field
Posted Sunday, June 1, 2008
The Cantata for Domitila folk opera project has a new focus for 2008 to complement the live CD that was released last year - a series of human rights workshops featuring stirring South American rhythms and songs and parts of the dialogue from the show.
The show is based on the book, Let Me Speak!, which is about some of the harrowing and sometimes even humorous events in Domitila Barrios de Chungara's life as an activist in the 1960's and '70's. In recognition of her courage and her work in support of the tin miners of her country Domitila was part of a collective women's nomination for a Nobel Peace prize in recent years.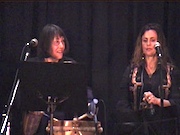 The Cantata features bilingual dialogue, poetry, dance and music based on the folk culture of Bolivia to illuminate dramatic Domitila's story. There are some surprising twists, such as songs with overlays of chamber-style strings and some funk and jazz-y touches - a reflection of the many influences on folk music in contemporary Australia. The show has been presented three times in Sydney, with a cast of over a dozen people, some Australian-born and some South American and all working together to share the music and promote the story.
The Workshops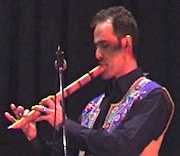 The Cantata workshops are designed to be hands-on and lots of fun, with as much singing and dancing and percussion exercises as people want. The Cantata is the springboard for the workshops, but each is designed to suit the group's main interests, be they singing / cultural exchanges / human and workers' rights issues / Andean folk rhythms / drama and role playing / discussions, etc. They are suitable for both adults and kids.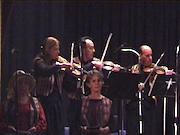 Anyone who would like to organize a session for their friends, family or community group, or join a session already in the offing, can ring (02) 9797 6126 for more information. All that is needed is a group of 6-20 people and a spot in which to hold it. They are presented by Mary-Jane, who does not take a fee. All that is requested is a small donation of $8/5 per person to cover travel and other extra expesnses, such as photocopying. The Cantata project is sponsored by the Edmund Rice Centre for Social Justice and Community Education. (At the end of the year the Domitila activities will finish and any profits will be turned over to charity.)
Cantata for Domitila CD now available
A CD taken from one of the performances in the Ashfield Town Hall was released last year. Copies are available at:
The Latin Store,
Ashfield Mall &
The Feminist Bookshop, Lilyfield.
The cost is $15, with all profits going to charity projects in Bolivia and Australia. It was sold out at the launch last year, but a few more copies have been printed. For more info please ring Mary-Jane Field, creator of the Cantata for Domitila on 9797-6126 or see the web site. (Mary-Jane usually has some CDs with her, so if you see her sometime you are welcome to ask her about it.)
You can also check it out at the Ashfield Library.