Peggy Seeger - Folksong as a Guerrilla Warfare

Interview with singer-songwriter Peggy Seeger
By Sue Barrett
Posted Tuesday, January 24, 2012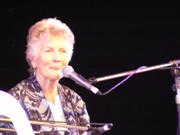 "In a way, I'm kinda grateful that the mass media hasn't taken up folksong because maybe folksong can continue where it's always been – as a guerrilla warfare."
With 2011 drawing to a close, debate is already taking place about the best songs from the past year. And as 2012 rolls out, there will the inevitable reminiscing about times more distant, like the best songs from 1992, 1982 and 1972.
In 1972, for example, artists with #1 songs in Australia included John Lennon ('Imagine'), Don McLean ('American Pie') and Nilsson ('Without You'). There was also Benny Hill ('Ernie (The Fastest Milkman in the West)'), the Royal Scots Dragoon Guards ('Amazing Grace') and Dr. Hook & The Medicine Show ('Sylvia's Mother'). And Peggy Seeger infiltrated the life of many Australians, courtesy of Roberta Flack's #1 hit, 'The First Time Ever I Saw Your Face' – a song written about Peggy by Ewan MacColl.
This summer brings American-born singer-songwriter Peggy Seeger from her home in England on another tour of Australia.

With a musical family tree that includes Ruth Crawford Seeger, Pete Seeger, Ewan MacColl and Kirsty MacColl, Peggy Seeger now reflects on past music journeys, discusses the current music scene and talks about the things that mean most to her…

Growing up, was it always in your mind to work in music?
I had no idea of what I was going to do. I had no aspirations to be anything. I knew what I didn't want to be – and what I didn't want to be was a musician (because I loved music and singing so much that I didn't want to get stale at it).
I think my first paid engagements were when I was about 20 and in college [Radcliffe College, Cambridge, Massachusetts]. I sang to college audiences and in old people's homes, with a couple of college friends. Then the money gave out and I had to leave college.
From age twenty-one to twenty-four, I more or less sang by myself, playing wherever I pleased, including in the street.
I met Ewan MacColl [who was to become Peggy's long-term partner] a couple of months before my twenty-first birthday – we sang on radio and television programs together. [Subsequently] Ewan and I sang chiefly for the folk clubs because we believed in grass-roots organisations and the folk clubs in England are grass-roots. We also sang for arts council people - the arts council had a subscription list and members came along to whatever the arts council decided to put on – so you'd get people of all political allegiances.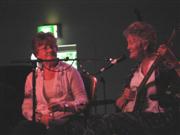 Later I sang with Irene [Pyper-Scott], my present partner, for four years – we did concerts in Australia, New Zealand, Canada and the United States. And then I started out by myself again.
In this country [England], I sing almost entirely now to older people – a lot of people turn up to see (a) if I'm still alive and (b) whether I'm still good enough to interest them! I really like singing to older people because so little is made for older people culturally these days and it's very gratifying.
As part of your concert performances, you read from your Fact & Fantasy book. Can you tell us about that?
It was suggested to me by Irene about 20 years ago – she thought that I needed more humour. It's a huge book - it weighs about a pound and a half and it's about an inch and a half thick - so I've had to pare it down for travelling. I have some absolutely astounding pieces in it and it is really is a question of what on earth do you read out of it. Sometimes it's just nice just to turn to any old page and change to a subject that has no logical connection with what you've just done and what you're going to do.
You've been performing (and recording) for more than 50 years. What are some of the positive and negative changes that you've seen in that time?
There is a folk revival going on over here now in this country and it's very, very vital - more instrumentalists, than singing. I haven't seen much bad – although there's not enough really good singers coming up.
To me, [having more instrumentalists coming up than singers] is a continuation of the feature that runs through art from the very beginning and that is the balance between form and content. I think that we're in the position of form right now. The songs with content generally don't get on the mass media, they get on the independent media. We're in a musical time where the songs reflect the ugliness, the speed, the youth. In a way, I'm kinda grateful that the mass media hasn't taken up folksong because maybe folksong can continue where it's always been – as a guerrilla warfare.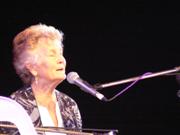 I could do with more songs that talk about how things are – which is dire. We need humorous songs about where we are. And we need serious songs. We need songs that help us find our way out of where we are. They say it's a time of bread and circuses – you know, in economic disasters, bread and circuses is what the people want. And I don't know if I'm the bread or the circus, but I'm not somebody who's going to help you forget - I sing about Iraq and racism and being out of a job.
What do you have to say to young performers?
My advice for young performers is be absolutely sure of your words, absolutely sure of what you're going to play. And be willing to make mistakes and learn how to laugh your way out of it.
I'd also say, don't just be concerned with yourself up there on the stage, approach it with humility. Out there in the audience, the aggregate experience of everybody is so overwhelmingly more great than what you have - those are people who've done things that you would never dream of doing, done things that you are incapable of doing, have troubles that you have no idea of, have joys that you have no idea of. Your job is to entertain them, is to give them what you have that they don't have and to respect what they have that you don't have. It's a group experience, not just you up there strutting your stuff.
Since I've been performing, I've been astounded by how many people in the folk movement stand up and perform before they're actually ready – ready in terms of a performer or ready in terms of their own skills. I think it takes more than just skill to sing and play to be a performer. You can be really, really good, but if you don't know how to perform, it can sometimes come unstuck.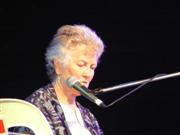 I'll give you an example of myself. When I was about 20, 21, 22, I was in Chicago and some very enthusiastic folk people asked me if I would give a children's concert. I said, "Sure. I know all these children's songs". About 300 children turned up, with about seven minders. I said, "Now this is a song that needs three people up on stage". And ALL those children came up on stage. And I COULDN'T get them off.
Theatre training is something I think every performer should do – it gives you ways of performing that keeps everybody interested and keeps yourself interested. Some performers have this theatre thing naturally – you take a Billy Connolly, you take an Arlo Guthrie. I had to [study theatre] because I was essentially a serious person and I was fixated on the skills on the instruments and singing the songs right. And I took myself very seriously – I no longer do that, if I forget something on stage, I'll just laugh it away (I have a photographic memory, but I don't have same day service!).
I think that older performers have a lot to offer younger performers. I'd love a couple of apprentices, I really would – people to teach, to talk to and to have them ask me "Why do you do it this way?". Then I'd have to think why I do it this way and when you talk about why you do it this way, you get a new understanding of why you do it this way and then you think that maybe I should try it a different way!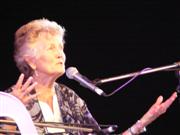 Your songs and concerts are sprinkled with references to your family. Are you working on an autobiography?
A biography is being written at the moment by Jean Freedman, who lives in Washington, DC. And I'm writing a memoir to go along side of it. The University of Illinois is going to put them out together, probably two or three years from now.
Can you tell us about the first time you heard Ewan MacColl's song, 'The First Time Ever I Saw Your Face'?
I heard it over the phone from Ewan, in 1957 that would have been, in the spring. I was in the States and he was in England. We were a bit at odds at that point and you didn't light-heartedly phone from England to the States. I had told him that I had a radio program in Los Angeles for which they wanted a modern love song that was no longer than two minutes. And he sang it over the phone.
Apart from music, what are some of the things that mean the most to you?
My family. My partner. My past partner, the one who is dead. I love England, I love the country. My friends (I don't have a lot of them, but the ones I have mean a lot). I read. I crochet. I don't want ever to cook again – I cooked for a family for 30 years and I can do without that! I love walking, but I have bad feet and bad knees. I love having a cup of coffee and watching life go by. My partner [Irene] lives in New Zealand – she comes here for three months and I go down there for three months. I call her every day and, of course, she is high, high, high on my list of what is valuable.
When the opportunity comes, I love to go to lectures about things I don't know anything about. I don't have a television, for I fear that I would get too attached to it. I watch a lot of movies – I have favourites. The Winter Guest (Emma Thompson) is one of my absolute favourites – I love almost anything Emma Thompson does. I guess all time favourites are the David Attenborough nature films – I'm watching one at the moment called, The Private Life of Plants. And I watched Wonders of the Universe, the Brian Cox series.
I think as you get older, and you know you're going back to the earth, the nature of the earth becomes more fascinating to you, you want to know where you are going. And if I have to be reconstituted, I don't want to be a Venus flytrap. I think I'd like to be a big old live oak.

© Sue Barrett 2011
Concert photos, and photo of oak tree, taken by Sue Barrett.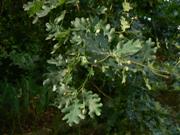 Peggy Seeger - Australian Tour
Wed 28 Dec 2011-Sat 1 Jan 2012
Woodford Folk Festival, QLD
Wed 4 Jan 2012
Danish Club, Newstead, QLD
Thurs 5 Jan 2012
Food Angel Cafe, Dorrigo, NSW
Fri 6 Jan 2012
Old Gazette Theatre, Dorrigo, NSW
Sat 7 Jan 2012
Gallipoli Club, Hamilton, NSW
Sun 8 Jan 2012
Clarendon Guesthouse, Katoomba, NSW
Thurs 12 Jan 2012
Merry Muse Folk Club, Turner, ACT
Fri 13 Jan-Sun 15 Jan 2012
Illawarra Folk Festival, NSW
Tues 17 Jan 2012 (with Bob and Margaret Fagan)
Notes Live, Newtown, NSW
Fri 20 Jan 2012
Bendigo Folk Club, Bendigo, VIC
Sat 21 Jan 2012 (with Judy Small)
Caravan Music Club, Oakleigh, VIC
Sun 22 Jan 2012
House Concert, Harcourt North, VIC