The Dog was founded in 1990 by a small group of folkies - Peter & Jacqui Kerrawn, Yuri, Jo Elliot, Peter Hicks & Gary Robilliard headed by Carole Garland, a traditional singer and concertina player who had migrated from Northumbria in 1987.
From the start the club put a heavy emphasis on singing, a tradition that still continues.
The initial concert with the enduring format of main act & support was held on Sat 17 November 1990 in the upstairs hall of the Annandale Neighbourhood Centre, main act The Roaring Forties, support Blue Heelers.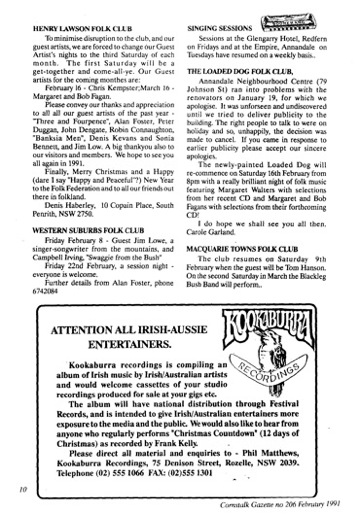 Artists who appeared in the first year - The Fagans, Margaret Walters, Jackie Luke, John Dengate, Gill Rees, Chris Kempster, Len Neary, Acoustic Shock, Taliesin. Nigel Foote & Dawn Egan were regulars.
information taken from April 97 Cornstalk article by Carole. Check out the pictures of the June 1991 concert - the Fruity Melodrama - http://my.opera.com/LoadedDogFolkClub/albums/show.dml?id=4626992
Margaret Walters is a long-term member of the Dog team, & along with The Fagans, & John Dengate will be part of the 20th Anniversary concert.
The club has continued under 3 managers, the late Richard Mills (1995-1999), Greg Bull (1999-2002) & Sandra Nixon.
Concert line-ups culled from Cornstalk, the magazine of the Folk Federation of NSW, & the Dog's former & current websites, and will be updated as information is located.
1990
....................
1991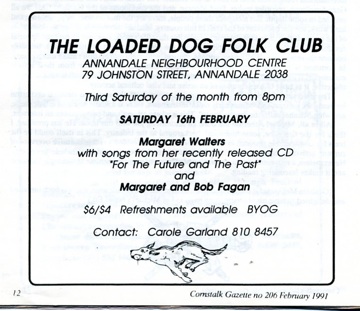 Feb - Margaret Walters + Margaret & Bob Fagan
June - Music Hall night - check out photos here http://my.opera.com/LoadedDogFolkClub/albums/
....................
1992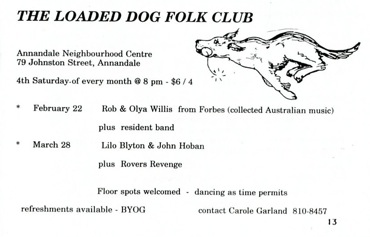 Feb - Rob & Olya Willis from Forbes
Mar - Lilo Blyton & John Hoban + Rovers Revenge
Apr - The Dog is off the leash & heading for the St Albans Festival
May - Peter Hicks & Judy Pinder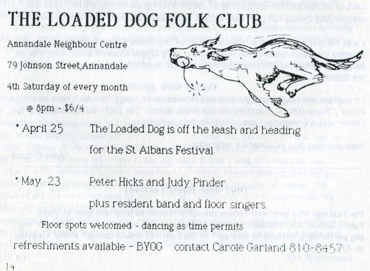 ....................
1993
May - Tolpuddle with Taliesin, Margaret Walters, John Dengate & Robin Connaughton
Nov - Bernard Bolan + Margaret Walters + The Ensemble of Fat, Bearded Carol
Singers
....................
1994
Mar - Brian Peters (UK)
May - John Dengate + Campbell the Swaggie
June - Niall Fenix, Connor O'Neill (ex Fish at Mass) + Solidarity Choir
July - Gill Rees + TBA
Sept - cancelled due to festivals
Oct - Taliesin + Sue Chalmers
Nov - Greg Wilson & Jackie Luke + Australian Concertina Band
1995 in 1995 Richard Mills, replaced Carole as manager
Feb - The Fagans, floor spot from Kate Delaney & Gordon McIntyre
Mar - Margaret Winnett + Sydney Ceili Dancers
Apr - Dog in Concert - Martyn Wyndham Read (UK), Margret RoadKnight, Walters & Warner
May - Warren Fahey + Margaret Bradford
June - The Roaring Forties + John Greniger
July - Vento del Sud
Aug - Taliesin + Judy Pinder
Sept - Australiana Night with Bush Music Club, Pete McMahon & Concert Party
Oct - Alistair Hullett + Dave Alexander
Nov - Greg Wilson & Jackie Luke + The Australian Concertina Band

1996
Feb - The Great Chorus Sing In
Mar - John Dengate + Kerfuffle
Apr - Peter Hicks + Sydney Trade Union Choir
Apr - A Far Cry + Amazing Grace Bros
May - Bernard Bolan + Jennifer Lees
May - Tinker Hungerford & friends
June - Warner & Walters + Mike & Lesley
June - Residents Night with Richard Mills, Carole & Roger Fyfe
July - Lonnie Martin (Qld) + Tin Gods
July - Ragged Band + John & Jane Queripel
Aug - Blindman's Holiday
Aug - BMC Concert Party with Pete McMahon
Sept- Greg Wilson & Jackie Luke + Nigel Foote
Sept - Watercolour + Toni Wood (Qld)
Oct - Cath Turner (NZ) + Vox Humana
Oct - Vento del Sud + Mary Jane Field
Nov- Fagan Family + Iain McLeod + John Warner
Nov - Pastance + Jim Lowe
Dec - The Roaring Forties + The Outrageous Tea Ladies (half of The Amazing Grace Bros)

1997
Jan- Scott & Louisa Wild + Margaret Bradford + Richard Mills
Feb - Sonia Bennett + Jazz & Folk (Sonia B & Gill Rees)
Feb- Solidarity Choir + Ballads of the Fallen
Mar - Jez Lowe & Kerfuffle
Mar- John Dengate & Sydney Trade Union Choir
Mar - Lonnie Martin, Helen Rowe & Jan Davis (Qld) (half of Tangled Web)
Apr - Maura Seale + Frank Povah
Apr - Cooking for Brides & Ceili
Apr - Greg Hastings + Siobhan Skates
May - Creel + Dave Alexander
May - Walters & Warner ???
May - Settlers Match + Jacquie Roberts
June - Peter Hicks + Sue Chalmers
June - Sacred Cow + Bernard Bolan
July - Pamela Drysdale + The Roaring Forties
July - The Wild Colonial Boys (Can)
July - No Strings Attached + Richard Mills
Aug - The Rattlers + Carole & Roger Fyfe
Aug - Bathurst Folk Club
Aug - Jennifer Lees + Vox Humana
Sept - Den Fenella + Margaret Walters + Christine Robertson
Oct - Martyn Wyndham-Read + Ian Barker & Michael Spencer
Oct - The Wheeze & Suck Band + Triskele
Nov - Jenny Cargill + us not them
Nov - Rod & Judy Jones & The Mighty Fine String Band + Len Neary
Dec - Blindman's Holiday + Alison Cone & Mark Campbell

1998
Feb - Dave Alexander Memorial Concert
Feb - Far Fetched
Mar - Tom Lewis + The Roaring Forties
Mar - Faith Petric + Folk & Didgeriblues
Apr - Celtic Not (Ian Baker, Michael Spencer & Penny Stannard) + Nothing Without Belinda
May - Fagan Family + Judy Pinder
May - Vox Humana + Miguel Heatwole
June - Martin Pearson + Peter Hicks
June - Maura Searl + Creel
July - Duncan Chalmers + Brian Hungerford
July - Derek Gifford + us not them
Aug - John Dengate + Sue Chalmers
Aug - Den Fenella + Cleftomaniacs
Aug - Bob Campbell + Richard Mills
Sept - Jim Lowe + Jim Macquarrie
Sept - Steve Tallis + Jenni Cargill
Oct - Blindman's Holiday + Liz Frencham & Celtica
Oct - Triantan + Jo Cresswell & Dave O'Neill
Nov - Karen Burton + Len Neary & Malcolm Menzies
Nov - One Day Festival
Dec - Celtic Not + Walters & Warner

1999
Feb - Dave Alexander Memorial Concert
Feb - Celtic Not + Richard Mills
Mar - James Fagan & Nancy Kerr + Ecopella Greg Bull took over as Manager
Mar - Nothing without Belinda + Tursacan
April - Celebration of Working Life
May - us not them + Touchwood
June - Shake Sugaree + Peter Willey
July - Mundy Turner + Another Roadside Attraction
Aug - Jigzag + Jo Cresswell & Dave O'Neill
Aug - Bernard Bolan + Roger & Carole Fyfe + Jim Macquarrie
Sept - Creel + Nic Maguire-Rosier
Oct - Walters & Warner + Brian Hungerford
Nov - Dave Benuik + Karen Burton
Dec - The Fagans + James Fagan & Nancy Kerr

2000
Feb - Unaccompanied Chorus Singing with The Roaring Forties
Mar - Enda Kenny +
April - Scalene +
May - Wongawilli's Australia Calling
June - Tursacan +
July - Peter Hicks + Sydney Trade Union Choir + Blue Mountains Trade Union Choir
Aug - Duncan Chalmers
Sept - Jez Lowe + Solidarity Choir
Oct - Penelope Swales + Peter Willey
Nov - Gilly Darby + Touchwood
Nov - The Shiny Bum Singers

2001
Feb - Miguel Heatwole + Paul Spencer
Mar - Jimmy Young + Sfuso
April - Rory Ellis +
May - Craig & Simone
June - John Dengate + Alan Musgrove + us not them
July - Mattawa + The Ragged Band + Phyl Lobl
Aug - The 3 Margarets - Bradford + Fagan +Walters
Sept - Protest Songs + Bright Star Community Choir
Oct - Labour History with John Dengate + Walters & Warner + Phyl Lobl + Maurie Mulheron
Nov - Angel Train with Greg Carlin & Olivia Bartley

2002
Jan - Alan Chinn + Margaret Essex + Leon Rabin
Feb - Jim Lowe + John Warner
Mar - Pete Morton (UK) + Sydney Women's Vocal Orchestra Greg's last concert
April - cancelled due to St Albans Festival
May - Jim Macquarrie + Triantan
June - us not them (4) + The Roaring Forties
July - Benefit Night -
Leon Rabin
Bright Star Choir
Miguel Heatwole
Lemon Tart
Gerry Myerson
Margaret & Bob Fagan
Margaret Bradford
Carrl Myriad
Rhymin' Simon
Wheelers & Dealers
Aug - Phyl Lobl + Touchwood + floorspot from Sydney Trade Union Choir, mini-launch of their CD
Sept - Warren Fahey + Galimore
Oct - Wheeze & Suck Band + Lemon Tart
Nov - The Shiny Bum Singers + Chris Clarke

2003
Feb - Danny Spooner & The Roaring Forties
Mar - The Partridges (Linda Marr & Yuri Halay from Keklik Aile) + Kate Delaney
April - Enda Kenny & Lindsay Martin + Choralation! A Community choir
May - Cathie O'Sullivan (ACT) + Keith McKenry (ACT)
June - Politics & Parody with John Dengate + Robin Connaughton
July - The Songs of Woody Guthrie, with Peter Hicks & Chloe & Jason Roweth + Solidarity Choir
Aug - Phyl Lobl + Springtide (Jackie Luke & Greg Wilson)
Sept - Dave Johnson + Kate Maclurcan
Oct - Touchwood + Galimore
Nov - The Shiny Bum Singers (ACT) + Rhymin' Simon & extended floor spot from Charley & Brett from Roll 'n Go (Maine, USA)

2004
Feb - Unaccompanied singing with Carole Fyfe & Adrian Hill + Don Brian
Mar - Pete Morton (UK) + Blue Mountains Union Singers
April - Martyn Wyndham-Read & Iris Bishop + Tony Eardley
May - Bruce Watson (Vic) + Ann Ridgway
June - Brian Hungerford (ACT) + Peter Campbell + Jimmy Parbury
July - The Shiny Bum Singers (ACT) + Paul Hemphill
Aug - Phil Garland (NZ) + mothers of intention
Sept - Kevin Baker + Jennifer Lees
Oct - Touchwood + John Warner
Nov - Margaret Walters + Jim Jarvis

2005
Feb - Nick Locke + Rhona Macleod
Mar - Brian Peters (UK) + Fiona & Craig
Apr - us not them + Triantan
May - 15th Birthday Mini-Festival
Chrissie Little
Bill Bekrik
Judy Pinder
Jim Stubbs Backing Band
Rhona Macleod
Paul Hemphill
Carole Garland
John Warner
Kate Maclurcan
Craig & Simone
Tony Eardley
Minglewood Mudcats
Lighthouse
Margaret Bradford
Ecopella
Margaret Walters
John Hospodaryk
Jane Faulkner
Miguel Heatwole
Chris Okunbur
Duncan Chalmers
mothers of intention
Bob & Monica Foggin
June - Warren Fahey + Tom Hanson
July - Aitch + Wallaby Stew
Aug - Danny Spooner (Vic) + Kate Delaney
Sept - The Shiny Bum Singers + The Offshoots (ACT)
Oct - Touchwood + Helen Rivero (ACT)
Nov - 15th Birthday celebration with Peter Hicks, Carole Garland & friends
Dec - The Roaring Forties + The Wheeze & Suck Band
2006
Feb - Martin Pearson - The Unfinished Spelling Errors of Bolkein
Mar - Chloe & Jason Roweth + Miguel Heatwole
Apr - Pat & Ken (UK) + Lyrebird
May - Craig & Simone + Nick Lock
Jun - Ann Ridgway + Tony Eardley
Jul - Just a TAD & Moz + Blue Mountains Rebel Chorus
Aug - Jim Lowe & Nigel Foote
Sep - Songs of Sedition with John Dengate & The Shiny Bum Singers
Oct - Margaret & Bob Fagan + Lol Osborne
Nov - Danny Spooner (Vic)+ Margaret Walters

2007
24 Feb - Martin Pearson +
Dog Walking Backwards
24 Mar -
Triantan
+ Carrl Myriad
28 Apr - Kate Maclurcan + 2 supports - members of choir Goodly Sport + Duncan Chalmers
26 May -
Huldrefolk
+ Mary Jane Field
23 Jun -
Lyrebird
+ Eddy Samson
28 Jul -
Alan Musgrove & The Watsaname Band
+
Sydney Trade Union Choir
25 Aug -
Anne Ridgway & mothers of intention
+
Bright Star Choir
22 Sep -
The Shiny Bum Singers
+ Brett Robin Wood (1 hour each)
27 Oct -
Wheeze & Suck Band
+ Charlie Ipcar (US)
24 Nov - Miguel Heatwole & The People Have Songs

2008
Feb - Kieran Halpin (Ireland) + Kate Maclurcan
Mar - George Papavgeris (UK) + Walters & Warner
Apr - Martin Pearson (Vic) + Solidarity Choir
May - Chloe Hall (Vic) & Roaring Forties
Jun - Peter Hciks (Tas) + Southern Cross Trawlers
Jul - Dave de Hugard (Vic) + Buck & Deanne
Aug - John Broomhall Trio + New York Public Library
Sep - Danny Spooner (Vic)+ Goodly Sport
Oct - The Shiny Bum Singers (ACT) + The Lurkers (1 hour each)
Nov - Sydney Trade Union Choir + Robin Connaughton (1 hour each)
2009
Feb - Fred Smith + Choir on a Wire
Apr - Martyn Wyndham-Read (UK) + New York Public Library
Apr - Evan Mathieson & friends sing the Songs of Harry Robertson
May - Roaring Forties + Fergusson Elliot (1 hour each)
Jun - Maurei Mulheron & friends celebrate Pete Seeger's 90th Birthday
July - The Wheeze & Suck Band + Jennifer Lees
Aug - Martin Pearson (Vic)+ Ecopella
Sep - Phil Garland (NZ) + Oran Mor
Oct - Danny Spooner (Vic) + Kate Delaney
Nov - Nick Lock + Dennis O'Keeffe (1 hour each)
Photos - Sandra Nixon.
Scans from Cornstalk (Folk Federation of NSW) & Mulga Wire (Bush Music Club)