Chamamé comes to Australia via Radio National

A personal encounter with Argentine accordionist, Chango Spasiuk
By Mary-Jane Field
Posted Saturday, March 7, 2009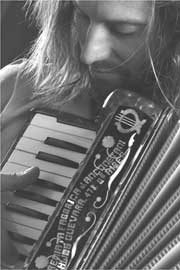 To hear the pulsating sounds of the Argentine chamamé as interpreted by Argentine accordionist Chango Spasiuk on Radio National recently would have been a real treat. I missed the radio programme (advised by Julie Bishop's Folkmail), but then I have had the delightful privilege of not only hearing him perform live but of meeting him at a party in Buenos Aires. The party had been organized in my honour so I could meet local musicians and it was a wonderful evening full of conversation and songs, and, of course, empanadas (Argentine meat pasties) and wine.
By then he had already made a name for himself with his accordion and bandoneon playing, specializing in the chamamé rhythm from the Northeast region of Argentina. He had first come into prominence after the Cosquín folkloric festival in Córdoba, Argentina, in 1989. I was also invited to perform in Cosquín, with keyboardist Jane Butler who was on tour with me, and an Argentine percussionist, but it was not there that I first heard him. It was a few years later at a festival in Uruguay.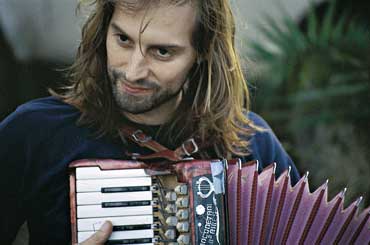 I was not performing in this festival, just soaking up all the wonderful music as an audience member. These concerts go on late into the night and the early morning and eventually I retired, sleepy and exhausted after so much activity and stimulation. The performances are broadcast all over the stadium and the little village itself, so the rhythms and sounds were reverberating all around me as I drifted off into a comfortable sleep in the wee hours.
No sleep for chamamé lovers
something special and wonderful
Not for long! The pulsating, intense sounds of the Chango's accordion ringing through the streets had me sitting up in bed and asking myself, "Who is this guy?" I have heard chamamés and music from the littoral region for years, but this was something special and wonderful. The fast licks and his incredible technique were remarkable, highlighting the mood and the feelings of each song and giving each number an amazing touch all his own. I never forgot that sleepless night, and was not surprised when I began to hear of his growing fame.
What a treat it was when I met him at that party a couple of years later. (I even scolded him for keeping me up all that night!) He was quite blonde, as you might expect from someone with a migrant Ukranian background. At that time he was cleanshaven, and so very young-looking. Perhaps this youthful look is where he got his nickname, "Chango," which is used for "kid" in local slang.
As with so many confident and successful artists, I found him to be modest and genuinely interested in talking with me and finding out about folk music in Australia.
Cheek to cheek with the chamamé
a cross between a slow polka and a waltz
The chamamé is one of my favourite rhythms. It is deceptively simple, but with melodies that weave around the beat and with rhythms within rhythms. Most South American songs are also dances, and the chamamé is a charming dance, not unlike a cross between a slow polka and a waltz. Traditionally young couples dance cheek to cheek, but keeping a wide space between them below the waist – no doubt to satisfy the watchful eyes of chaperones and duennas in older times.
Not all South American men dance
I love the dance and was thrilled when Jane Butler and I were invited to a chamamé evening in Buenos Aires, with promises that we would be dancing all night. It would be Jane's first introduction to the dance and I was pleased for her when her escort turned out to be a good dancer. But I was so disappointed when mine turned out to be someone with two left feet! (Not all South American men dance …) I got my chance a couple of years later when I chamaméd the night away at a function in Sydney. However I paid for it, for I had kept on dancing in spite of falling down some stairs earlier in the evening and I woke up the next morning completely stiff and practically unable to move!
I don't know where the name for this music comes from, but it sounds a lot like the Spanish for "call me" -- llamame -- and that is so appropriate for that is just what the chamamé does: it reaches out for you. It obviously grabbed Chango Spasiuk and now he is playing a big part in developing and spreading this compelling music. After all these years I can't wait to listen to his latest offerings on CD.