St Albans Folk Festival - a review
Dust! Dust! and more dust.! Freezing cold nights!
By Margaret Bradford
Posted Wednesday, May 17, 2006
Dust! Dust! and more dust.! Freezing cold nights!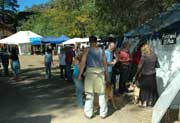 Could sound pretty miserable except when you consider the magnificent warm sunny days, hundreds of friendly faces, & absolutely top class acts on the programme.
OK. So we had the usual odd blackout, but this made for some innovative scenes, like the a`capella singing of Wild Honey on the main stage by candlelight. (Editor's note - and the amazing Wheeze & Suck Band playing a fantastic acoustic set by torchlight a few nights later.)
But personally it was one of the best festivals I've had at St Albans. As a volunteer not only did I keep in touch with everything that was going on, like the latest impromptu happenings, changes etc, but was constantly chatting/joking with other volunteers and sang much more than I ever would have done as booked performer and enjoyed it more.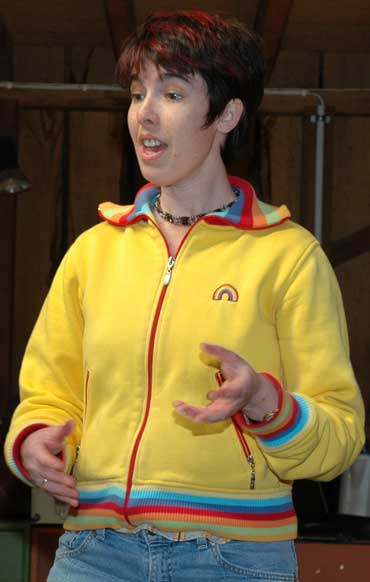 Three acts which really stood out for me were Azo Bell, a master of the ukulele. He made it all look so easy. I'd never dreamed a ukulele could sound so good! Anthony McGloin, who also with a simple guitar could interpret so many emotions and every day happenings through music. Mundy/Turner from the UK on fiddle, guitar, piano and percussion pull together so tightly and with such vibrancy in their live performances which explore some quaint and poignant anecdotes. Must mention one of my favourites, Earlwood Greg and his beautiful bluesy-jazz guitar, always looks so relaxed!
My favourite fun event must be the karifolkie in the Fickle Wombat where Mothers of Intention and Full Circle provided the backing for anyone who wanted to get up and sing a popular song. I haven't laughed so much for ages, or for Geoffrey W. Graham's concert in the church at 11pm - what a gift of the gab! He had us in hysterics (no chance of falling asleep) as he wandered amongst his audience using us as his characters in his recitals of popular Aussie poems.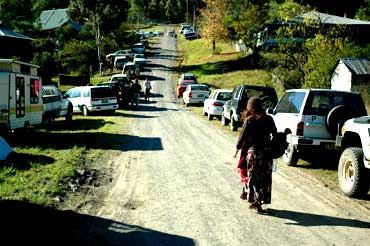 Thanks Betty and John, Bilbo (hope you've recovered?) Bill Bekric, as volunteer co-ordinator and MC at the Fickle Wombat each night, Alison for five days of programming! (a longer than usual festival this one) and Cec Bucello who got publicity out to all, as well as the many other volunteers who make the festival work so well.
See you there next year . . .
Margaret Bradford

(Courtesy of St Albans Folk Festival web site.)