Spectacular Turning Wave

Gundagai turns it on for 2008 Festival
By Pam Merrigan
Posted Thursday, September 18, 2008
Perfect Spring weather, and a record crowd swelled the population of Gundagai for the third Turning Wave Festival held over five fabulous days in September. Attendance was up 20% on the previous year, venues across the town were filled to capacity and the music and the good will filled every space. This is a unique festival where the whole town gets involved and, given Gundagai's iconic status in Australian folk lore and its strong Irish connections dating back to the late 1840's this is the ideal setting for an event celebrating Irish Australia.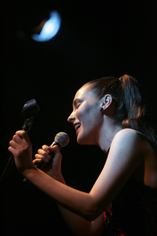 For 2008 Gundagai produced an amazing array of talent. Top Irish outfit Tulca Mor made the trip down from Brisbane and were not disappointed by the reception they received from festival audiences while Ami Williamson who burst onto the folk scene earlier this year, and is making quite a name for herself with her one-woman show kept her audiences enthralled. Ami, by the way, is the daughter of country music star John Williamson but certainly doesn't need to rely on the famous name to make her mark. Another group that had all the "tune heads" talking was the Rounders. They impressed with their mad crankin' take on the music of Ireland and Newfoundland.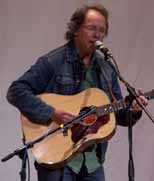 Other headliners that kept audiences well entertained included Victorian based Damian Howard and the Ploughboys, FrenchamSmith, singer songwriter Chris Aronsten from the north coast who is just a stunning solo performer, Chris Duncan & Catherine Strutt and Karen Lynne and Acoustic Shock with their brand of bluegrass - beautiful vocals and outstanding musicianship. With over 60 acts it's impossible to mention eveyone but from the concert stages to the community music, the Celtica Puppets, to the non-stop daily entertainment in Carberry Park and the joyous celebration of the Sunday street parade it was a superb experience.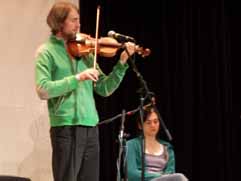 This year three outstanding musicians Caoimhin O Raghallaigh, Eithne Ni Chathain and Enda O Cathain from Ireland presented master classes, concerts and recitals at the festival. Their participation provided a unique opportunity to experience Irish music on a number of levels from the pure drop of the tradition through to the more contemporary approach displayed by the trio as (((Shhh!))), revealing the depth and scope of Irish traditional music in a contemporary context.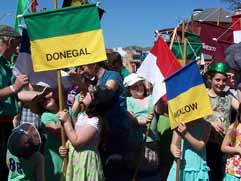 My pick amongst so many highlights was Sunday's Fiddle Recital bringing together three of Australia's top fiddlers in their respective fields, Fred Graham (Irish), Jenny M Thomas (Australian) and Chris Duncan (Scottish) with Caoimhín Ó Raghallaigh. Eithne Ní Chatháin and Enda Ó Catháin for a memorable concert where these six practitioners enthralled a packed audience with their interpretation and delivery of each style, exploring the similarities, differences and uniqueness of each.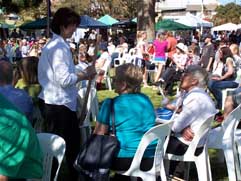 The "Wave" will be rolling in to Gundagai again next year from the 16th-20th September so mark it in the diary, book the time off work and be there for five of the best days of the year!
Read reviews and highlights of TWF 2008.