Our experience of St Albans Folk Festival

Brief review of the 2006 festival
By Wayne Richmond
Posted Monday, June 26, 2006
My partner Gial and I attended the St Albans Folk Festival in April. For Gial, it was her first visit, for me, a return visit after a decade or more. We had often thought about going but being regular attendees of 'The National' we usually found ourselves too exhausted to contemplate another weekend of festival so soon. However, this year I didn't have to worry about work the next day - I have retired! - so off we went!
This article is in no way a comprehensive review of the festival. We only attended for two days and one night and pretty well limited ourselves to the acoustic venues - The Church & The Courthouse.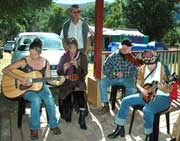 We had intended to begin our first day with Just a Tad & Moz. However, we were very disappointed to learn that remarkable group had cancelled. As an alternative, 'A Slow Jam' with Gael Mor - The Merrigans sounded good so we went in search of The Courthouse which turned out to be Mundy and Turner's bedroom - apparently there was a last minute problem with the Festival having access to the proper 'Courthouse' venue. Under Pam's leadership, about a dozen of us had a very relaxing and enjoyable time playing through a number of tunes on our accordions, whistles, guitars, fiddles and mandolins.
We then rushed up the hill to hear the Poms From Oz in The Church (a truly acoustic venue). Last time I was at St Albans I remember The Church being spoilt by the intrusion of the overly loud PA from the main stage at the back of the hotel. The PA at this year's 'Main Stage' at The Barn had a very ugly buzz when I heard it and was, in my opinion, much louder than it needed to be but, fortunately, not loud enough to make it up the hill to The Church.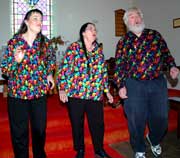 The Poms From Oz were fantastic! They are the Pomeroy family (Judy, Alan & daughter Kathleen) from Townsville and they sing traditional and contemporary Australian, British and American songs with great gusto and wonderful close harmonies. Their enthusiasm and obvious enjoyment was infectious and together with their musical skills made for a most memorable experience. The next day we grabbed another dose of the 'Poms' by attending their Harmony Singing workshop.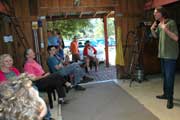 We then tore back down the hill to Mundy & Turner's bedroom to experience part of Alan Glover's Introduction to Stand-up Comedy - a very funny man!
We ate lunch as we listened to the Bouddi Voice Choir as they performed acoustically (mostly) in the main tent outside of the Barn. They sounded even better in The Church later that afternoon. One of the members is Isabelle Fogarty - someone whom I have known for years as the bass player in the fabulous New York Public Library and as the mother of a stunningly brilliant singer, Sarah Fogarty.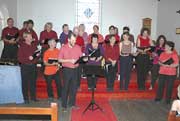 They presented a wide variety of material. I especially liked the hauntingly beautiful 'I am ready'. You just know that folk music is alive and well when you hear a community choir such as this singing so well and with such passion.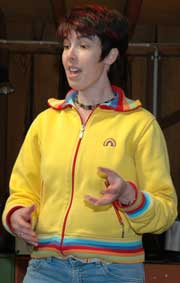 The Mundy Turner Vocal Harmony workshop was brilliant - a very talented and delightful couple! Highlights on the Sunday were the very talented duo Freshwater (what a voice Chris Wheeler has!) and speaking of voices - have you heard the deliciously smooth tone of Chloe Roweth's voice? Chloe and Jason's workshop on Australian bush songs was informative and a lot of fun. And Gial really enjoyed the refreshingly original songs of James Roy, from Cranky Franky.
Providing there remains such a wonderful acoustic venue as The Church, we'll be back to St Alban's.
Wayne Richmond & Gial Leslie