Music at the Creek

Review of festival - 19th-21st Nov 2004
By Erika Mordek
Posted Saturday, January 22, 2005
Although the week leading up to the festival was sullen and bad tempered, Music at the Creek 2004 enjoyed (mostly) perfect weather. For the first time, the dance venue was open on the Friday night with World Dance Bands, featuring amongst others, Ecobeat and Charlie MacMahon with his amazing Seismic Didj.
Attendence this year was terrific; all the venues were full, and during the Guitar Olympics between Damon Davies, Michael Fix and the lads from Urban Gypsies, more than a capacity crowd were hanging around the hall verandah to hear what would happen next.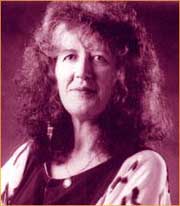 Margaret RoadKnight and Helen Rivero entertained and enthralled the audience while Tomas Dietz Flamenco Academy certainly wowed the evening crowd. A lot of people discovered the dance venue this year, as the mix of music and dance was quite a change for most punters.
We were very happy to have the lively Tinkershuffle, in what seemed to be their last folk festival performance. Their energy and zest were terrific, and as a band they will be sorely missed. .
Apart from certain problems with the toilets (which we will endeavour to fix) most reports were very positive. We will again try to have a good mix of music, as well as the beginner sessions which were taken on by Canberra's Murphy's Folklore. Participation certainly seemed to be the key to this festival with all workshops being well attended, and participants enjoying the variety on offer.
At the Braidwood Folk Club we hope that this year's selection will be just as pleasing. Applications to perform open in February and close 1st June. Music at the Creek 2005 has changed weekends - now on the second weekend in November. (10th, 11th and 12th)