Dorrigo Folk & Bluegrass Festival

29th-31st October, 2004 - Review
Posted Saturday, January 22, 2005
Many factors contributed to last October's Dorrigo Folk and Bluegrass Festival being such an outstanding success. Sponsored by the Arts Council of Dorrigo and organized by a dedicated band of volunteers the weekend has left patrons demanding an encore.
The Community Concert held on Thursday evening was a great way to begin - a showcase of Plateau talent, with guest appearance of the talented Lost'N'Found, for everyone to enjoy. Acts were varied from the delightful primary choir, recorder and dance group to the High School students, demonstrating their dedication to music. Shellaly featuring Hernani Folk was well received, as was the duo of Bridget Sommers and Lyn Chessel. Baffey and his mate stole the show with their button accordions.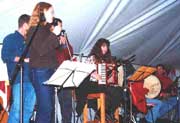 At the festival the standard of performers was, without exception, top class, inspiring and entertaining. People came from as far as Germany and America and many parts of the country to enjoy the music. Performers, visitors and townsfolk mingled easily and friendships evolved. Under the shade of the showground trees, clusters of musicians formed here and there and impromptu jams resulted, while friendly conversations flowed.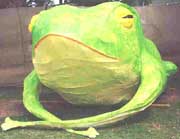 During the evenings, the blazing fire drums were magnets of welcome and warmth with music ever present. The Giant Frog, a 4-metre paper lantern, familiar to plateau people and symbol of fertility and creativity appeared with his glow for all to enjoy his presence.
On the concert stage in the Pavilion Eric Bogle shared his songwriting genius with the wit, humour and passion he is renowned for accompanied by John Monro's soothing harmonies, mandolin and guitar.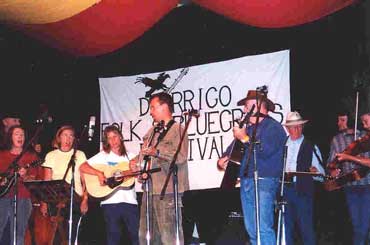 The Sommers Family delivered a performance to the hall's capacity crowd on Saturday night that was exceptional. Matilda's voice and banjo thrilled all, while Alex's mandolin playing received a rousing ovation. Ken was kept on his toes keeping up with the pace set by Jack's guitar and Tom's fiddle. We're so privileged in this town to have a resident band of this calibre!
'Headland' from Woolgoolga offered a bush dance in the Big Tent that enthused patrons. Feedback from patrons reveals that their favourite act was as varied as the acts themselves were. Madd Marrianne, the Redland Bluegrass Boys, The Lawnmowers, Gibson and Brown, the Acoustic Pirates, Lost'n'Found, Evan Matieson, Jigzag all struck a chord in delighting their audiences. Local accapella group, the Spangled Drongos enthralled all.
Workshops offered were well attended, forcing the committee to reassess workshop venues for next year.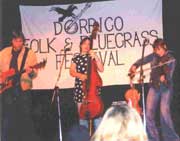 Liz from Jigzag said "That the Dorrigo Folk and Bluegrass Festival is one of the best Festivals in the whole country and one of our favourites, so you had better keep it going!' so we will!
This year's Festival to be held 28th,29th and 30th October at the Dorrigo Showground promises to deliver an even more enjoyable coming together!