Clearwater's Great Hudson River Revival

A report on a visit to the 2011 edition of the festival started by Pete Seeger
By Wayne Richmond
Posted Monday, August 1, 2011
After identifying June as a window of opportunity in the Humph Hall/Loosely Woven schedule for Gial and I to have a honeymoon, we were thrilled to discover that the famous Clearwater Festival was taking place on the weekend of 18th & 19th June.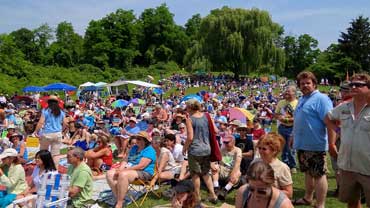 The festival, whose full title is Clearwater's Great Hudson River Revival Music & Environmental Festival, is organised by the nonprofit, member-supported, environmental organization Hudson River Sloop Clearwater, Inc. which uses environmental research, education and advocacy efforts to help preserve and protect the Hudson River and its tributaries, as well as communities in the river valley.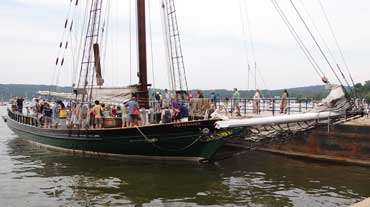 It was begun in the 60s by Pete Seeger who, by holding small, fundraising concerts throughout the Hudson River Valley, eventually built the sloop 'Clearwater' and set about 'saving the river' from the appalling polution that it was being subjected to.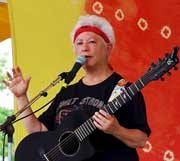 The festival is held at Croton Point Park, Croton-on-Hudson approximately 40 minutes north of New York City. It is a public park without any structural buildings. There were two main stages - the Rainbow Stage and the Hudson Stage. Each of these had a canvas roof but the audience simply sat on the grass. Thank goodness we were blessed with perfect weather! Both of these 'main' stages were really quite small - certainly compared to what we are used to in Australia at festivals like Woodford & Port Fairy and even The National. Another interesting difference is that most of the main feature artists only performed once - we didn't get a second or third opportunity.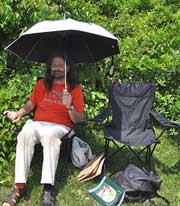 Fortunately for us, most of the artists we really wanted to see were performing on the Rainbow Stage so we ensconced ourselves there. Gial managed to get a couple of chairs out of the New York Times stand and we set ourselves up over to one side close to the stage and basically stayed there for the weekend.
First up was Pete Seeger himself with Power of Song apprentices. When we arrived they were doing a sound check and I remember thinking - 'Could that be Pete himself standing over to the right playing banjo?' It was. Except for leading one song, Pete just stood on the side playing his banjo with the emphasis squarely on the young people including Pete's grandson, Tao.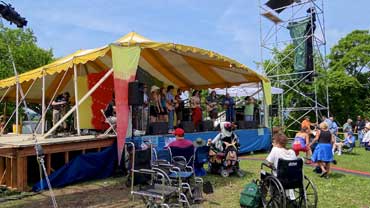 Notice how small the Rainbow Stage is. Notice also the area at the front reserved for wheel chairs and other people with disabilities (hearing etc.)
By the way, there were signers at all performances on all of the stages.
I was astonished to find that the only scheduled performance for Peter Yarrow (as in Peter, Paul & Mary) was on the extremely small 'Family Stage' where he did a concert aimed at kids - 'Puff the Magic Dragon' etc. with lots of audience participation. He was brilliant!
Strangely, the tiny Family Stage was also the venue for Pete Seeger's only full concert. However, whilst Peter Yarrow's voice, if not his performing ability, was certainly diminished, sadly, Pete Seeger barely had any singing voice left at all.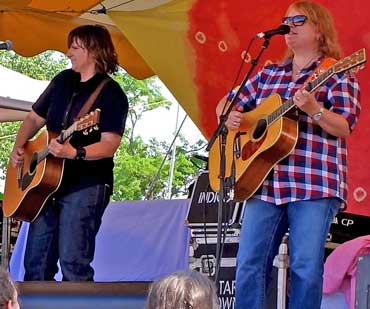 Fortunately I was present when an announcement was made that Peter Yarrow, with his daughter Bethany, would be leading a sing-a-long session in honour of Mary Travers. Would you believe that not only was this remarkable event not on the program but it was relogated to the 'Jam Tent', a really tiny affair on the far side of the grounds which was used for ad hoc jamming!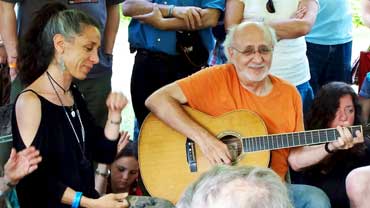 I was hoping to get a chance to meet Pete. My very brief opportunity came following his concert on the Family Stage.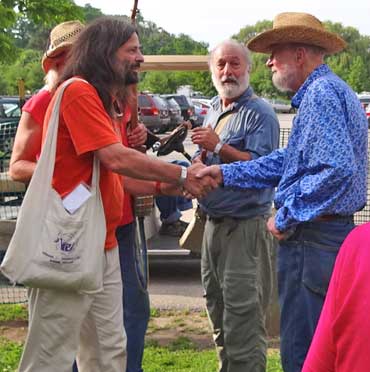 Like Peter Yarrow, Pete was performing with and for young kids. There was a strong emphasis throughout the festival on the younger generation. In fact, this year's theme was 'Clearwater Generations' and each evening there was a concert on the Rainbow Stage with famous artists performing with their children, grandchildren etc. Pete Seeger sang with his grandchild Tao, Peter Yarrow with his daughter Bethany etc.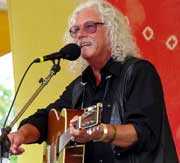 All in all, I can heartily recommend this festival. It was extremely well organised and it was certainly fabulous to see legendary artists like Pete Seeger, Peter Yarrow, Janis Ian, Billy Brag, Arlo Guthrie, John Sebastian (Lovin' Spoonful) and the Indigo Girls in the flesh!