Review of Bundanoon Dance Festival 2011

June Long weekend, 2011
By Sandra Nixon
Posted Thursday, April 21, 2011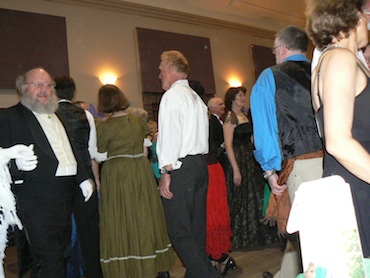 Bundanoon Dance Festival, 2011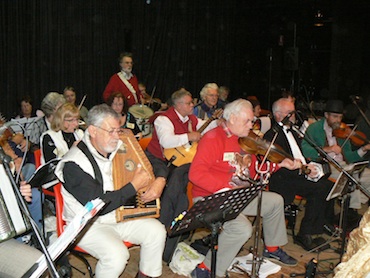 It's June and the Bundanoon Dance Fest happened again on the QB long weekend, its third occurrence. It is beginning to look like a permanent feature in the dance festival calendar. And what an experience it was, over 240 people dropped out of their normal lives; just gave themselves up to three days of dancing in bottle-free Bundanoon*. It's a fairly quiet small town sitting atop the escarpment and news travels slowly to Bundanoon; apparently there were clouds of Chilean volcanic ash about? I know that one can buy newspapers there but no participants were actually seen reading them.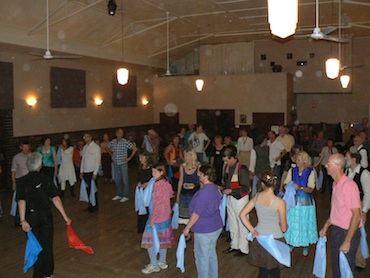 They were too busy choosing where to lift their heels next. There were always two but mostly three venues to choose from; 26 workshops in all, each of 90 minutes duration and at four workshops per day that adds up to six hours. But you're not finished yet! In the evenings there were dances that reprised some of the dances taught throughout the day. We're talking about 10 hours dancing per day! That is better than the National; or so I heard it said. So! Even though it was not possible to workshop all dances, it was possible to dance some of those you missed with someone who did. How good is that?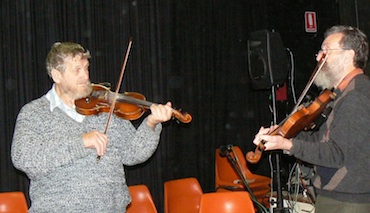 There was an absolute smorgasbord of Australian, Ballroom, Bavarian, Contra, English, Estonian, Irish, Nordic, and Scottish stuff by people who know their stuff. It began with the savoir faire of John Garden's treatment of 'Couples dances from C19 Australia' and Roger Gifford's 'Nordic Dances'. Did I mention Morris? I should have, that was good too. But it would be wrong to pick just one out; they were all good.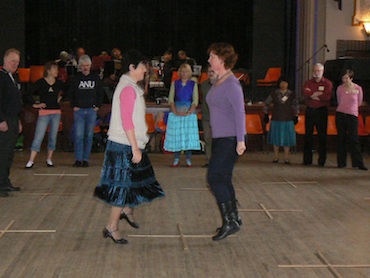 It's not just the dancers who had a good time. There were 50+ musicians who between them provided music for every workshop and then hung about to play for the dances in the evenings. They too were all smiling broadly, even though some took themselves off to session in front of the fire in the spacious lounge of the Bundanoon Hotel. This same space was later the scene of communal singing and quiet chatting as dancers and musicians alike cooled their heels before slipping away somewhere to sleep and be ready for the next day.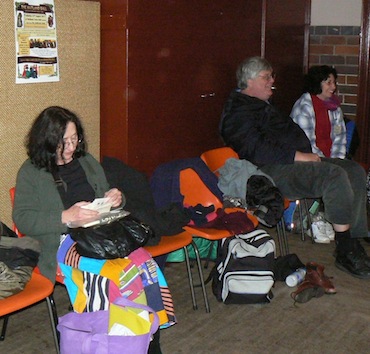 Most dancers were experienced. For example, there was no trouble at Friday night's welcoming dance to get through 30+ dances in just under four hours. The evening was unscripted and most callers claimed to be 'unprepared'. Personally I don't believe them when they say that because they all managed it beautifully, for there were happy faces were everywhere and their smiles just did not go away; all weekend.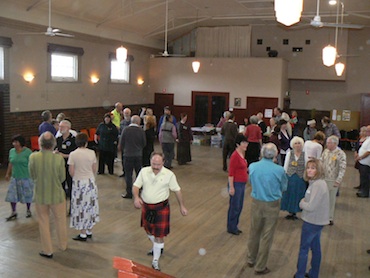 This festival is turning out to be a very special event in the dance calendar. Although still fledging, it is clearly a festival of social dance, one that brings together a range of European dance styles. Their co-location adds considerable variety to a dancers' diet, making it easy to sample dance from these different cultural backgrounds during the weekend. It is such a good arrangement and comprehensively good fun.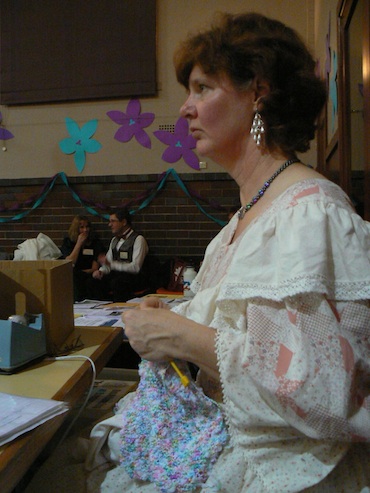 But this festival is special, not just because participants tend to be experienced dancers; or for the range, type and style of dances; or for the knowledge, expertise and experience brought to it by callers; or the splendid quality of the music. It is also special because there is time for people. This is a very social gathering, a meeting of community. While participants are busy, engaged and active, there is time to relax and be social, to bump into friends while sitting out a dance, or walking to the next workshop. There is time to pick up on old acquaintance during a meal, be it breakfast, lunch or dinner, or over a snack and drink somewhere along the street. The result was life as it sometimes can be - a joyful celebration of being.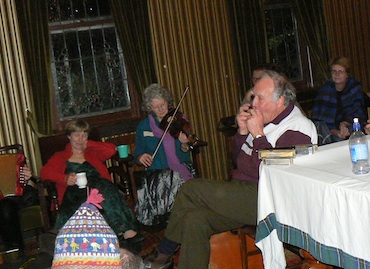 And there is always next year!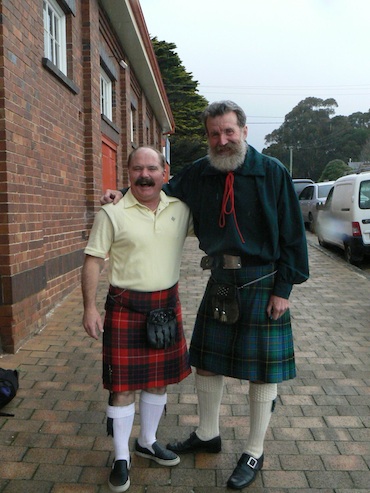 Ray Mulligan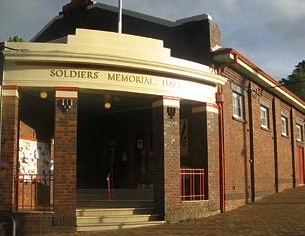 * The sale of water in plastic bottles has been banned in Bundanoon but there are plenty of other liquids available there in bottles.
first published in Monaro Musings, July 2011.