A Gathering of the Irish
Review of the Irish music and dance festival, fleadh nua, Jindabyne Jan 2005
By Chris Wheeler
Posted Thursday, January 20, 2005
Having low expectations of an event can sometimes lead to wonderful surprises. I went to the Irish music and dance festival, or Fleadh Nua, in Jindabyne expecting little more than some friendly, low-key late night sessions and a few very understated concerts. What I found was so delightful that my family lost sight of me for the 4 nights and 3 days of the festival. It was truly a gathering of the Irish, with Irish accents outnumbering Australian both in the audience and on the stage by about 2:1. It was an audience who appreciated traditional music in both song and instrumental form. Rarely if ever have I heard so many ballads sung during a weekend, on concert stages and in sessions; yet people were equally enthusiastic about the classy dance music that was on offer in concert and at the nightly ceilis. In a quiet way the festival also celebrated the history of Irish men and women who migrated to Jindabyne as their first work in Australia since the mid 19th century right through to the 1960s when they worked on the construction of the Snowy River scheme.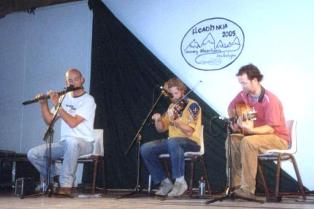 Kevin Doyle, 78-year-old accordion player and deservedly the grand old man of traditional Irish music in Sydney, developed a vision of this gathering two or three years ago. Last year saw the first such festival, which was regarded by those who attended as definitely worthwhile. Several younger and well-organised members of Kevin's family ably supported him and worked very hard in pulling the whole weekend together. Visiting Irish husband and wife team Michael Rooney (harp) and June McCormack (flute) were arguably the musical highlight of the festival and both offered instrumental workshops on the first two mornings. They will appear at Port Fairy Festival as the act 'Draiocht'. Other workshops offered included accordion and ceili dancing, the latter being particularly well attended. Singers included Sean Roche from Perth, Jimmy Moore and Martin Doherty from Sydney, and Maria Forde from Melbourne. Musicians included members of Tulca Mor from Brisbane, members of Bhan Tre and Aes Dana from Melbourne and many Irish musicians temporarily resident in Australia.
memorable singing session
The singing session on the Saturday night was memorable: with up to 200 people in a room upstairs in the local bowling club, the session ran for several hours with an informal and revolving MC, people being invited to offer up a song, the audience listening attentively to songs from all over Ireland which was sometimes accompanied by a little story, and lustily joining in the well-known songs. While a rendition of Waltzing Matilda reminds even the least cultured Australian of her/his national identity, there are probably a couple of hundred songs that do the same for an Irish national. Many more songs call on regional identities and during the weekend lent currency to a thriving trade in jokes about folk from Dublin, or from Clare, or from wherever the teller happened not to come from. The instrumental sessions I attended were equally well-mannered, classy and welcoming affairs.
Many thanks to Kevin and his family for a wonderful weekend.
Christine Wheeler