The Loaded Dog @ the 2008 National!

A report on the NSW Chorus Cup held at The National Folk Festival - March 2008
By Sandra Nixon
Posted Monday, March 24, 2008
So there we we were all prepared for our part in the Chorus Cup.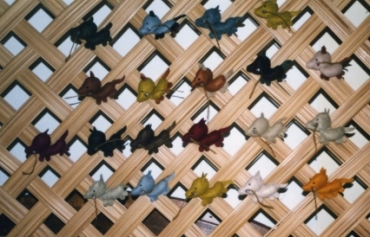 We had selected the perfect team - Margaret, Chris, Gerry, Jane, Mike, Dawn & Brian, workshopped our song, rehearsed to perfection, printed up copies so the audience could join us in the choruses, and selected the proper bribes for the Judges (their very own Loaded Dogs & 2 excellent bottles of wine.)
The first & second acts were good, but we knew we had a winner, so our team climbed onto the stage wearing their very own Loaded Dogs, as our officials gave the Judges their bribes & the singing started.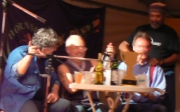 Within seconds our perfect harmonies had been joined by a clamorous racket from the back of the audience. Naturally our team ignored this over-the-top-barracking (& of course did not retaliate when the Wagga Wagga Folk Club team performed their paltry effort).
Unfortunately our tasteful bribes could not offset bribes offered to the Judges - Geoffrey Graham, Ian Macintosh & George - by other teams (chocolate, beer, more wine, shoulder massages, passionate kisses!!!!) and we did not win a prize.

LOADED DOG CHORUS CUP SONG
1. The music at the festival
Is totally digestable
Genticorum, Wheeze and Suck
Spooky Men and Vin Garbutt
LISTENING AT THE NATIONAL
2. There's music in the session bar
Fiddles fighting with guitar
Concertinas, flutes and drum
Less a session, more a scrum
JAMMING AT THE NATIONAL
3. Shanties, ballads, chorus songs
Harmonies from joyous throngs
Karafolkie, Leonard Cohen,
Any song you care to throw in
SINGING AT THE NATIONAL
4. Irish Contra Belly and Bush
Lots of ways to shake your tush
Morris dancers waving sticks
A funny way to get your kicks
DANCING AT THE NATIONAL
5. The Poet's breakfast takes the cake
Laugh so hard, your sides will ache
The yearly competition started
'Round the time Macarthur farted
WINCING AT THE NATIONAL
6. Little kids beneath the trees
Playing violins with ease
Toss some silver coins their way
They'll be centre stage some day
BUSKING AT THE NATIONAL
7. Eat your way around the earth
Enjoy yourself - forget your girth
Kranski, ViceVurst, Zourkraut
Washed down with a pint of stout
GORGING AT THE NATIONAL
8. Hippie things at all the stalls
Tie-dyed jeans and overalls
Candles, earrings, soap galore
Feels like 1964
MELLOWING AT THE NATIONAL
9. Picking up young folkie chicks
Seduce them with your banjo licks
If that don't work, sing something slow
By Eric Bogle or Jez Lowe
SCORING AT THE NATIONAL
10. The judges at the Chorus Cup
Will give a brave and bold thumbs up
To anyone who slakes their thirst
Even if they sing the worst
BRIBING AT THE NATIONAL
......................
Extra Verses
Save the planet from refuse
Reuse Recycle and Reduce
The National runs on Volunteers
Give them all three hearty cheers
CARING AT THE NATIONAL
Enjoy the music in fine style
Grab a wine and sit a while
The Troubadour's the thing to do
The festival will come to you
SOAKING UP THE NATIONAL
To the Guinness tent we go
Hand the cashier lots of dough
Be responsible and wise
For every ticket wins a prize
BOOZING AT THE NATIONAL
The Festival Shop is worth a look
CDs, DVD and book
Some cost quids, and some cost zacks
Push your credit to the max
SPENDING AT THE NATIONAL
Leave your mandolin in the sun
Watch the strings melt, one by one
Sound check on the stage at night
Take an hour to get it right
TUNING AT THE NATIONAL
Did you think to rent a tent
Your concert-going time augment
Night time revellers with the Owls
Early risers with the Fowls
CAMPING AT THE NATIONAL