2008 National Folk Festival Preview

Interviews with some of the performers
By Sue Barrett
Posted Wednesday, February 13, 2008
Once again, Easter brings the National Folk Festival to Canberra — with music, dance, instrument makers, poets, food and beverages, street entertainers, workshops, storytelling, films, craft stalls, debates, buskers, the Infinite Grease Competition, activities for children and a festival choir.
The dance program includes salsa, morris, swing, tango, bellydancing, rapper sword dance, Cape Breton step dance and Chinese folk dance.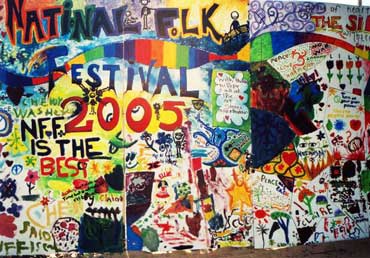 The workshops include circus skills, Indian call and answer chanting, slide guitar, singing like a bloke, songwriting, hurdy gurdy, Mexican harp, drumming, singing in Yiddish, performing as a duo, bandmouth and old style banjo.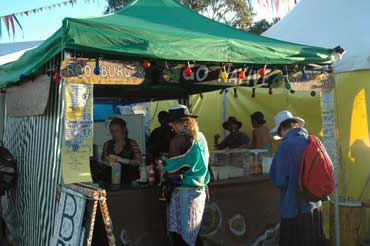 The food menu (if all goes to plan!) will include gelati, sushi, curry puffs, scones, pizza, chocolate, spring rolls, churros, soup, Indigenous eats, veggie burgers, fudge, and ice cream.
And the music program includes Rory McLeod, Women in Docs, Enda Kenny, The Duhks, Eddi Reader, Peggy Seeger, Phil Manning, Sally Dastey, Genticorum, Pacific Curls, Judy Small, The Spooky Men's Chorale, Klezmer Connection, Jen Anderson and the Larrikins, haBiBis, Faerd, Trouble in the Kitchen, David Arden, Bob Fox, Marcia Howard, Jim Conroy's Big Wheel, Liz Frencham, Dev'lish Mary and dozens more.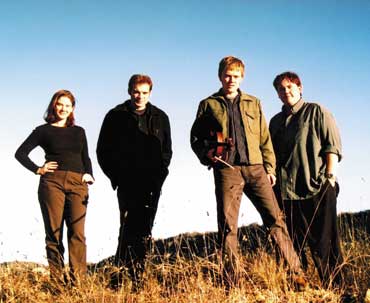 With Easter just around the corner, some of this year's performers provided insights into their music, as well as advice for people attending their first folk festival.
Tell us about your music
ORA BARLOW (of Pacific Curls) — This high-energy female trio presents an eclectic and progressive mix of world roots music with Mâori, Pacific and Celtic influences. We fuse an array of instruments: taonga pûoro (Mâori instruments), ukelele, guitar, percussion and fiddle.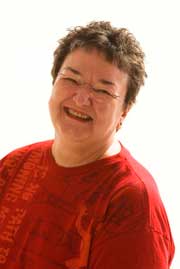 JUDY SMALL — I'm an old-fashioned stand-up- with-a-guitar-and- sing-songs-of-social- significance folksinger. I've been doing that professionally for 35 years, 16 of those full time.
LIZ FRENCHAM (of Dev'lish Mary) — Dev'lish Mary is an all-girl old timey band with some country and swing leanings. We have the strength of four different lead voices and four part harmony. We also play traditional old timey tunes led by twin fiddles and in some cases claw-hammer banjo. The music is simple and rhythmic — almost hypnotic in it's repetitive groove. We do occasionally stray from the tradition to present some original material of mine, and the odd AC/DC cover, but it's all delivered in an old timey style.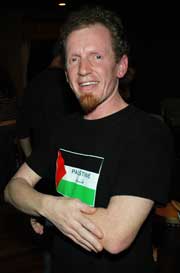 STEPHEN TABERNER (of The Spooky Men's Chorale) — I always like to hear other people describe our music..."the ghosts of choristers long gone"..."one funny guy out in front of sixteen straight men"...they are a couple of favourite turns of phrase. Basically we attempt to glorify, beautify and legitimise both the normal blokes singing range, and the pointless, grandiose dreams and petty dilemmas and contradictions that are the lot of the modern man.
JEN ANDERSON (and the Larrikins) — Several years ago (1994), I was commissioned to write the score to accompany the Australian silent film, The Sentimental Bloke. It opened at the Melbourne International Film Festival that year, and I performed the score live to accompany the screening along with two other Weddings Parties Anything members. Since that time the film has been lovingly restored with some additional footage by the National Film and Sound Archive and I adapted my original score to fit the new length. These days I perform it with Dan Warner and Dave Evans and we are collectively called the Larrikins. The music is folky in style, using violin, piano accordion, piano, acoustic guitar, mandolin and tin whistle. By using this instrumentation, I was attempting to capture the feel of what ordinary folk would have been playing in their own home, around the time that the film was made (1919). At the National, we will be performing the score during the screening of The Sentimental Bloke on Friday night.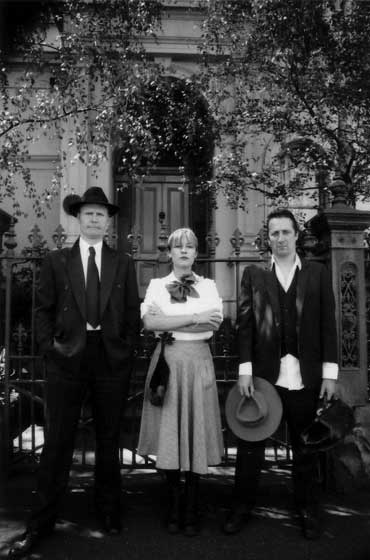 How do your festival performances differ from other performances?
ORA (Pacific Curls) — Festival performances are usually a burst of highlights, favourite songs…to an audience that loves to be there.
JUDY SMALL — They're much more relaxed I think — there's a carnival atmosphere and it's impossible to be nervous (and yes, I still get nervous!). And of course, sometimes I have to sing during the day, which I never do at other times! It's also a chance to see other performers which is wonderful – performers are always on the road so they don't often see each other except for festivals.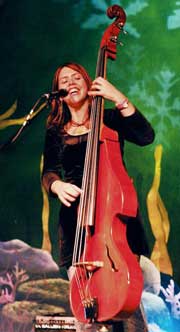 LIZ (Dev'lish Mary) — A festival audience is far more present and attentive than say a pub audience. So we ham it up with our hill-jilly naughty girl banter and tell more stories. We also make sure our frocks are extra purty!
STEPHEN (Spooky Men) — Hmmm. Pretty much the same. Maybe we bristle slightly more at the tips of the beard hairs. And sometimes smear the final few seconds of those fat bass open fifths with just a touch more filth.
JEN (and the Larrikins) — We usually perform the score to The Sentimental Bloke in picture theatres, although at times we have performed in unusual spaces, such as at a local swimming pool in the south-west of WA (the film was screened onto the side of a truck!). Our last performance was in October 2007, in Seoul, Korea, where we performed on an island in the middle of a busy street, dwarfed by skyscrapers and often drowned out by horns and other traffic noise…not to mention the fact that it was about eight degrees Celsius...I think folk festivals are a breeze by comparison!
What are you particularly looking forward to at the National?
ORA (Pacific Curls) — The mulled wine…actually…mostly the atmosphere of mixing with muso's and punters and listening to some great music.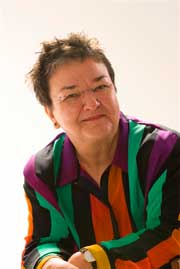 JUDY SMALL — The buzz, the audiences, Peggy Seeger, Rory McLeod, Kate Burke and Ruth Hazleton, the kids busking, hearing performers I've not heard before, the smell of the food stalls, catching up with old friends, and lots of other stuff!
LIZ (Dev'lish Mary) — The National is one of my top three festivals (up there with Wintermoon and Fairbridge) so just to be there every year is always a treat. There are, however, a couple of extra special aspects of 2008 for me. Firstly, I'm playing with David LaMotte, a singer songwriter from North Carolina who I met at the National in 2002. We became great friends and have stayed in touch, but it's now been six years since we've played together. I'm also launching a brand new album on Saturday night at the Troubadour with lots of special guests. It's an album of live duets called You & Me. Each track is just me and another musician playing each song completely live. The album features some really wonderful artists including Kristina Olsen, Mic Conway, Fred Smith, Doug de Vries, Carl Pannuzzo, Rebecca Wright, Mike Kerin, Martin Pearson and Christine Wheeler. The concert will feature a selection of these tracks with the original artists.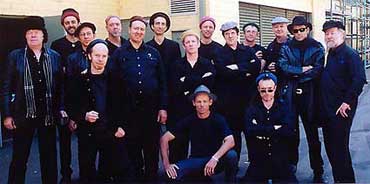 STEPHEN (Spooky Men) — Honestly, just walking around in my spooky hat making mock scary faces at kids.
JEN (and the Larrikins) — This is one festival that I've never attended before, and after hearing so much about it over the years, I'm really looking forward to just checking it out! The main great thing about performing at festivals is the enthusiasm of the audiences — because they are all there with a common interest. I love catching other performances at festivals too.
Any advice for people attending their first folk festival?
ORA (Pacific Curls) — Pace yourself and you'll be good to go all weekend.
JUDY SMALL — Relax, go and see someone you've never heard of, open your mind, and have a ball!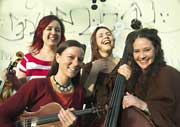 LIZ (Dev'lish Mary) — Check out the festival website in detail before you arrive. Each festival is very different, so knowing what the infrastructure will be like before you get there is helpful in planning what to take along. Make sure you look at the program well before you get there and maybe mark off a couple of must sees, because you are sure to be overwhelmed and caught up in the flow once you are there. Don't try to see everything, as you'll just overwhelm your brain and squeeze out any chance of accidentally experiencing that nude Lithuanian nose flautist in the Guinness tent while you are having a few quiet ales!
STEPHEN (Spooky Men) — Try to be a participant, rather than just a consumer. We love to have audiences that are like that. Go do some workshops, jam a bit or sing some songs with people you've never met before. Experience a "bass sandwich" by standing in between any two spooky men or deep voiced folkies...
JEN (and Larrikins) — Bring sunscreen, a hat, and be ready for a total onslaught of fiddles, tin whistles and other instruments that may be possibly irritating!
What's new/different?
ORA (Pacific Curls) — We have just finished our third album — Pacifi Celta — and it will premier at the National as its our first Oz gig of our tour.
JUDY SMALL — My double live CD was released in mid 2007 — I've always wanted to make a live recording. It marks 25 years of recording for me — of course I was 12 when I started! Otherwise, not much — I still work as a family lawyer for Victoria Legal Aid and sing in holidays and on weekends — the perfect balance!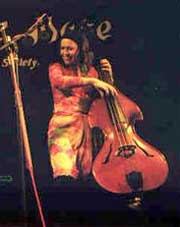 LIZ (Dev'lish Mary) — The most new and exciting project for me is the You & Me project. For a long time I've been looking for a recording opportunity outside of the regular acts I perform with (Jigzag, Frencham Smith, Dev'lish Mary and The Lawnmowers) that allows me the freedom to express my very broad musical taste (from bluegrass to swing) and to create with a different range of musical peers. To date I've sought this opportunity onstage at festivals, ready to leap up at the last minute to make a spontaneous connection with any number of different performers, both national and international. This series of duet albums is allowing me to do the same thing, but this time within the intimacy of a studio and leaving a permanent mark in the form of a recording. It is scary and challenging as up 'til now I've chosen not to record bass and voice simultaneously because of the obvious difficulties inherent. I do truly believe that there is a magic thread in a live performance that is lost when the song is dissected and multi-tracked. Capturing that elusive thread has been my challenge and my holy grail for You & Me Vol.1.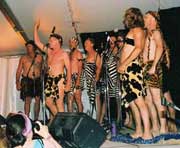 STEPHEN (Spooky Men) — Well, the spooky men are making their first DVD this year. So we have to spend a lot of time thinking about whether our beards look good from this angle, or from that angle. We are racking our collective forgetful brains trying to think of grand locations to practice pointless magnificence in front of. We are not going to the UK this year, so in addition to the DVD, we'll be doing a couple of mini-tours, the first one in north NSW and Queensland in late April.
JEN (and the Larrikins) — These days I have a day job, working with refugee communities to assist them understand our health system. And because I love to bring music into everything that I do, I'm holding singing workshops with some Sudanese women and we are making a CD. I'm also going on the road with my old band, Weddings Parties Anything — we're having our ten year break-up reunion tour — it's a national tour, finishing with a gig in London on Anzac Day 2008!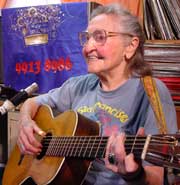 And, finally, some thoughts from one of the cult figures of recent National Folk Festivals — American singer Faith Petric (who's now 92 years of age and still performing):
"The great music, dance and workshops are outstanding and would be quite enough but in addition my memory treasures the warmth and welcoming from staff and audiences that also make this Festival so very special!"

Web sites:
National Folk Festival
Pacific Curls
Judy Small
Liz Frencham
Dev'lish Mary
The Spooky Men's Chorale
Weddings Parties Anything
Faith Petric
SUE BARRETT is an Australian music writer, with a special interest in women in music and an appreciation of the 'real' chairs and 'real' toilets at the National Folk Festival!