The Songs of Chris Kempster

Review of Chris Kempster Tribute CD
By Bob Bolton
Posted Tuesday, June 6, 2006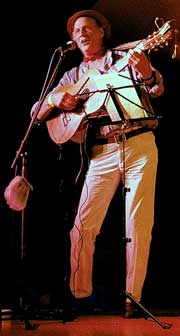 Ever since Chris Kempster's untimely death, his friends and admirers have worked hard to bring out a recording that does justice to the breadth and variety of Chris's music settings of Henry Lawson poems. Because the resulting songs were taken up by such a variety of singers around Australia – and overseas – a great part of this project was finding well-loved versions from singers over the years … and finding current singers to present their favourites.
The result is a selection of 30 tracks on a double CD set – with some two dozen different singers, solo or in combination and this great variety of voices and styles produces a virtual concert with something for everyone. The great Lawson songs – from Chris's setting of Reedy River . . . almost the anthem of the first Australian 'Folk Revival' of the 1950s (but sung very well by USA's Priscilla Herdman) . . . through the songs of Lawson's social concern (Faces in the Street and Freedom on the Wallaby marvellously rendered by Declan Affley, observations of the pioneering life of his youth – such as The Roaring Days given a lively modern treatment by James Fagan . . . to later songs of racial struggle in post-war Australia like Dorothy Hewitt's Clancy and Dooley and Don McLeod, very forcefully presented by England's Roy Bailey – to Chris's 1993 tune.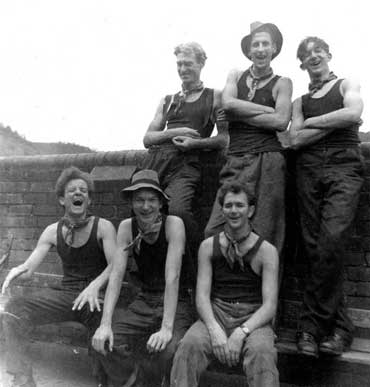 The Bushwhackers Band in their "summer costume": Shearing trousers, neckerchiefs and "Jacky Howe" blue singlets, Lithgow, 1955. Back: Jack Barry, Chris Kempster, Alex Hood. Front: Cec Grivas, Alan Scott, Harry Kay jnr. (Photo by John Meredith)
There are several of those songs written by Henry Lawson and others with a sensitivity to the women of pioneering Australia: Chris singing his own setting of The Drover's Sweetheart, Priscilla Herdman presenting Chris's tunes for that enigmatic verse The Water Lily and Louis Esson's Bush Lullaby . . . through to Chris's version of Dorothy Hewitt's words for her husband Merv Lilley The Sailor Home from the Sea. Henry Lawson's troubled life combines with Chris's talent in tune-writing to produce masterpieces like Bertha (addressed to Henry's daughter) stunningly sung here by Margaret Fagan … the brilliant refutation of lesser rhymers' carping Do You Think I do not Know? - Chris's tune as it was first interpreted by Declan Affley … that piercing observation of Darlinghurst Gaol (Keep Step) One Hundred and Three sung by Len Neary . . . and that song of acceptance and resignation to fate that Henry wrote only months before his death: On The Night Train – brilliantly sung by Chloë Roweth.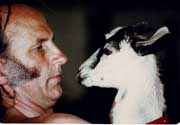 Chris demonstrates his appreciation of others' work on the Lawson vein with a fine rendition of Henry's The Outside Track, to a tune by English singer Gerry Hallom and a nicely balanced performance is rounded out with a short instrumental treatment of Chris's tune to The Drover's Sweetheart.
The 2-CD set was selling for $25 at the National Folk Festival launch . . . and wonderful value! You can buy it for the same price from Folk Trax, Trad&Now, Stairway to Kevin or, perhaps, your local folk club.