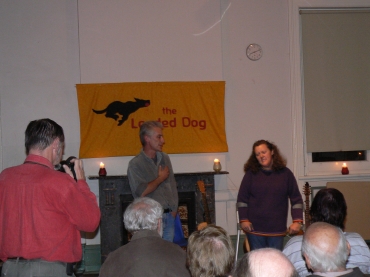 This Dog saw a plethora of floor spots. Jenny O'Reilly started the evening by getting the audience singing along with Little Boy Billy, followed by John Dengate's Skin Cancer Blues. Jane and Bill Scott sang a close harmony calling song and then the very happy and upbeat Friends Like These by George Papavgeris. Jerry Myerson's contribution included the comedy song Don't Buy the Liverwurst by Alan Sherman. It really had us in stitches. Ray Gurney was the last floor spot & gave us two short hilarious poems.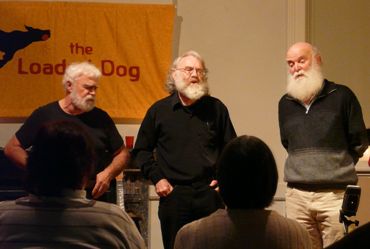 Fergusson Elliott was the first of our advertised performers. He is a singer song-writer and very accomplished instrumentalist who plays the bouzouki and guitar. He played tracks from his new album Sam, starting with an instrumental piece The Porter. His instrumental style is complex, though it is also extremely tuneful and rhythmic. Molly, Eliza and Maria are the names which he affectionately gives his instruments. Try Our Hands At Love is a new song, a gentle, tuneful love song with very evocative words. Harder Than Anything Else was a song for everyone to join in. He then took up his guitar and sang Dancing by Myself. It's a song of helpless love, of a love gone cold, leaving only loneliness. Fourteen is a song of the futility of endlessly looking back at the past when there is a present and a future for love. The Antipodes Waltz is a lovely song of the split persona of the emigrant who loves his new country but in part yearns for the old.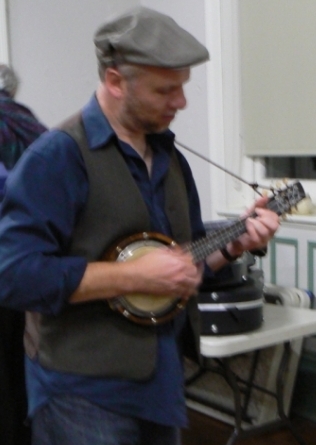 The Roaring Forties - Margaret Walters, John Warner, Tom Hanson and Robin Connaughton & Don Brian, is a band of seadogs who specialise in close harmony singing who sing songs of the sea and all its history, and also songs rooted in the folklore of many countries. Unfortunately, Margaret could not be with us because of illness, and because Don is at present shipwrecked on Norfolk Island, they were the Roaring Thirties.
However, undaunted, the show must go on. Yarmouth Town is a traditional English folk song which is another version of the old song Locks and Bolts. Marco Polo is about ships docking in Melbourne in the days of the gold-rush. Tom recited a poem Drovers, a hilarious verse of the claims made by drunken drovers who brag of their abilities and try to outdo each other. Robin gave us a song taken from a collection he is putting together of life in the various steelworks of Wollongong and Newcastle. This one was about the women who worked in the pressing factory in the Second World War making sheet-metal pressings for guns and who stayed on in the factory after the war and the hierarchy they created in the workplace. John sang The Whaleroad his song about the lure of the sea, accompanied by his new guitar. Tom lead Davey Lowston, a song about the tragedy of sealers who were marooned when the ship that was planning to pick them up was wrecked. Cheery Men is a song traditionally called a Whore's List, that goes through the names of women and their naughty misdemeanours.
Fergusson came back after interval and sang a traditional Caribbean song Good Morning Mr Walker, a song about a young man asking for a maiden's hand in marriage with a great call and response chorus. Soon is a conversation song of thoughts of old times and unattainable dreams. Dodger's Revenge is a song of arrest of criminals (the Artful Dodger) and their time in the hulks along the Thames before being sent to Botany Bay. For his final song he sang the Kate Rusby version of Bound for Botany Bay, which is a much more tuneful version than the one which is normally sung.
The Roaring Forties/Thirties returned with a spiritual song telling the story of Moses, Noah and the Red Sea. They then sang a great chorus song by Harry Robinson of the Ballina Whalers who urge the local fishermen to neglect their ordinary fishing and join them in conquering the humpback whale. The Wrecker's Prayer by Andy Roberts, is about the wreckers praying for bounty of the seas and the fulfilment of all their wants and needs. John recited a funny but very pertinent poem about bureaucrats trying to stop children in day-care centres from climbing and playing and being able to take risks, followed by Robin's poem about a bumptious foreman in the Port Kembla steelworks who fell into the melter (or was he pushed?). To end the evening, Tom led Sandra's favourite song Waltzing with Bears, a funny song about Uncle Walter, whose favourite activity is to go out at night and dance with all sorts of bears.
Photos: Mike Young & Sandra Nixon