Review of The Loaded Dog

Sat Nov 27th, 2004
By Dawn & Mike Davis
Posted Monday, January 10, 2005
The performances tonight at the Loaded Dog again prove how much talent there is in the NSW folk scene and how many folk music genres there are.
The night started with three floor performers, the first Chris Okunbar, played some soft blues numbers on slide guitar.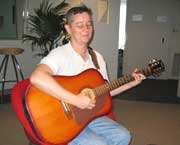 The second was K'crasher, a singer/songwriter from the northern tablelands, who performed two songs from her CD "Towards The Light". K'crasher played beautifully on a guitar on loan from John Warner. Her voice was rich and her singing style was full of feeling and her songs obviously grabbed the attention of the audience.
Finally, there was a short instrumental piece played very professionally, in the Baroque style, by flautist Lyndon.
The first featured artist was Jim Jarvis, from the Blue Mountains, whose choice of pieces was quite eclectic, exemplified the earlier comments about the variety of folk music that is played by our folk musicians. He displayed some great guitar work in some blues and slide guitar numbers which were a tribute to his many years in the folk scene. We loved his unique version of "Dirty Old Town" which gave the audience chance to join in the chorus with gusto. His voice lent warmth and colour to the songs he performed. His wife Meera and daughter Bethany then joined him to become "The Noxious Weeds" and played traditional tunes and one lovely Scottish Gaelic song. Within the group the guitar was ably assisted by the fiddle, autoharp and in one tune a very well played recorder.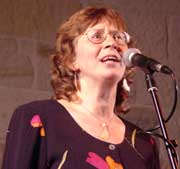 Anyone who has seen singer Margaret Walters, the second featured artist, perform is immediately captivated by her powerful and expressive style of singing and her genuine joy in folk music and its performance. Margaret was able to activate the audience as evidenced by the enthusiastic support from everyone in the chorus of "The Vikings", one of the songs from "Dolally", the newest Jez Lowe CD. Margaret sang a mix of accompanied and unaccompanied songs, many written by John Warner who writes wonderful songs, touching your heart. The songs crossed the spectrum of the serious to the funny and back again, with a lovely rendition of "Empty Handed" - ("It's not the setting sun that makes my face look red") by George Papavgeris from the UK, to the delight of the listeners.
Margaret was ably supported at various times by John Warner and Lyndon, especially in "Power In A Song"; the title track from her most recently released CD
For the finish we were treated to a round of three songs set against each other with each part led by John, Margaret and Maree Robertson in turn, with much audience participation and a little competition between parts. It was a night of very good performances and enjoyment