Review of Loosely Woven's 'Dance up the Sun' concert

December 2014
By Paul Cruise (Amnesty International)
Posted Wednesday, December 10, 2014
Well, ring my bells! I usually get my tinsel in a tangle at this fraught time of year but Loosely Woven spared me such grief with their new programme, 'Dance Up The Sun'.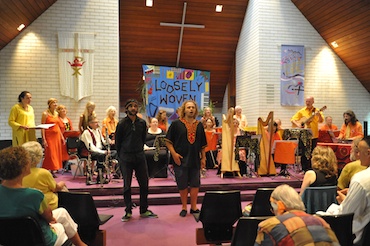 Celebrating not just the festive season but also indigenous identity, the audacity of hope and everyday human foibles, the troupe served up a banquet of delights.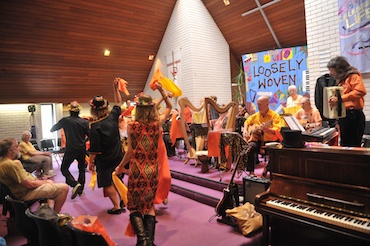 From Morris dancing through Sixties mod to a Highland fling, from Phil Coulter to Noel Coward via the Beatles, they covered the spectrum with their trademark passion and playfulness.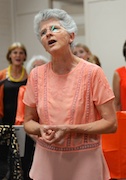 Among the vocalists, Meredith Williams drew a tear from these jaded eyes with her fervent rendition of John Rutter's "Candlelight Carol".
Dean Bell could have doubled for Neil Young in "Harvest Moon" while Greg Thompson and the doo-wop chorus gave righteous testimony to the Housemartins' take on "Caravan Of Love".
On the instrumental front, John Macrae's clarinets, Cody Costello's didjeridoo and the riffing violins of Kazu Milne and Robin Cant ably underpinned the repertoire. However, it was the troika of flautists Samantha O'Brien, Meredith Williams and Kathy Potter which most impressed me.
Inventive arrangements by Samantha, Kathy and bandleader Wayne Richmond helped to produce a powerful synergy - this group always proves greater than the sum of its modest parts.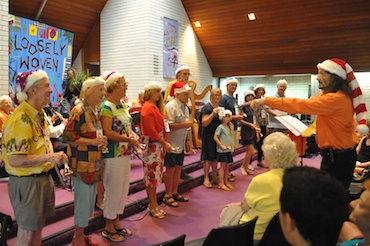 In keeping perhaps with the show's title, it's the warmth of these performances that remains with me. No tangled tinsel here! As the Christmas crush bears down upon us, I revel in the knowledge that a few devoted souls are unafraid to proclaim the all-but-forgotten virtues of love, peace and joy. May we join them in the dance!