Review of February 2005 Loaded Dog

Evening of mainly unaccomanied singing
By Dallas & Jim
Posted Sunday, March 20, 2005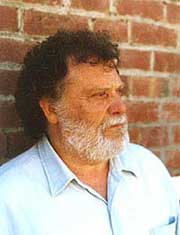 Our disappointment at finding out that Danny Spooner had taken the literal meaning of " break a leg" to extremes (he and Kate Delaney will now appear 27 August) was more than compensated by a marvellous evening of mainly unaccompanied singing.
Evan Matheson from Queensland with his self made autoharp opened with 3 songs and an instrumental, and especially for Sandra, "Waltzing with Bears" and the audience sang along. He later gave us an excellent rendition of "Wee Pot Stove".
The modern day swaggie Aitch followed with several entertaining road songs, notably "The Iron Gang".
She has a strong and sure voice
Scot Rhona MacLeod, recently returned from a lengthy spell in the UK, gave us a tour of Scotland with well loved traditional songs and several amusing new ones. She has a strong and sure voice, allowing her to imbue the songs with meaning and character, and a delightful presentation. We particularly enjoyed "Dainty Davy" and "The Yellow on the Broom". She is a welcome returnee to the NSW folk scene.
Nick Lock is a Cornishman now based in Woy Woy, and uses his beautiful voice to easily communicate his range of traditional songs, music hall songs and shanties; many of which are featured on his CD "A Proper Job", which sold well. We were treated to the unusual "Bell Ringing Song" and a wonderful version of "Flash Jack from Gungdagai" with the contrast of Chris Kempster's central lullaby.
The second half featured floor spots from Jenny O'Reilly and Amalina Wallace, which kept us singing great choruses, and an hilarious tale from Aitch.
vocal gymnastics of "Byker Hill"
Nick returned for another fine set, including three of compatriot Cyril Tawney's classics, of which "The Oggie Man" was hauntingly sung. By contrast we had the fun of "Treacle on the Pudding" and the "Pump Song" with the vocal gymnastics of "Byker Hill", and the evening concluded with soaring renditions of "Rain", "Leave her Johnny" and "Wild Mountain Thyme".
The Dog acoustics lead to great audience harmonies, and this was no exception. A super night enjoyed by all.