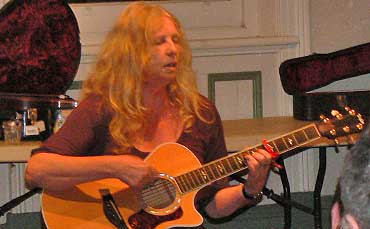 Our first floor spot in April was from Margaret Walters, who sang two traditional songs - The False Bride, a stpry of of unrequited love, and Knight on the Road, a question and answer song. Paul Hemphill told us a story based on Jewish mythology about Lilith, the temptress of Adam, who had lived with Lucifer but got sick of him and went to earth. Within this story are many twists and turns and moments of absolute hilarity. Kate Delaney then gave us Katie Cruel.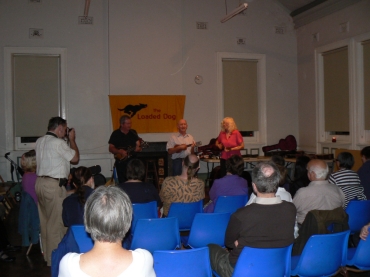 New York Public Library sing a mixture of blue grass using good close harmony and classical blues. They use instruments such as banjo, mandolin, guitar and double bass cleverly to make their songs come to life, whether in serious blues style or for rollicking fun, and their songs were generally performed in a deep Southern style. The song Glory Bound, one of the great freedom songs of religious conviction was sung with outstanding close harmony. Song and Dance Man, by Mike McClelland, was a great favourite with the audience and was played in an upbeat, bluegrass fashion which was great for audience participation. Their final song was the John Denver song Grandma's Feather Bed. It was a great song to finish off with, an upbeat, well-known, chorus song.
Martyn Wyndham-Read has been a folk singer dear to Australian hearts for many years. He came to Australia in the 1960s to work as a jackaroo, and became integral to the folk music community. He is still very dedicated to Australian poets and music history. ????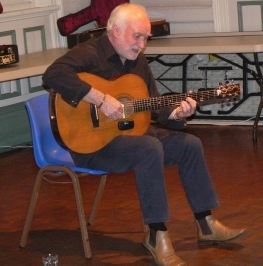 One of Martyn's gifts is his innate ability to take a poem or song, whether it be traditional or modern, English or historical Australian, and make it his own. His performance of the Henry Lawson poem The Tent Poles are Rusting is a typical example. Like many Lawson verses, it tells a story of the life of the swagman and his trials and tribulations. Cockle Shells is a song that I have heard Martyn perform many times, but one which seems immortal. It is a simple song of unrequited and false love, with a haunting and lyrical tune. From his new CD Martyn sang The Olive and the Vine by Stan Graham. It tells of the Italian farmers who came to Australia in the 1950s and early 1960s and their struggle to grow their traditional crops under the hardship of Australia's droughts.
We had a short floor spot from Kate Delaney, who sang Shift and Spin, about mill workers in the north of England. John Warner then performed his song Anderson's Coast.
Martyn returned with another Henry Lawson poem set to a simple tune, Down River told by a stockman who is happily living the life of Riley with his dog as his only companion. Martyn then sang Genoa, a lovely poem by Henry Lawson, of a love affair he had had in Europe. Jackeroo, by Mike Silver, is the title track of Martyn's new CD and is about a young man saying goodbye to his mother and travelling to Australia to spend his life wandering the country, working as a jackeroo and man of all trades. Martyn is a great interpreter of songs by Graham Miles, and sang two wonderfully evocative Miles songs. The Stan Graham song Old Whitby Harbour was a lovely, gentle note on which to finish the night. It tells of the inextricable link between Whitby Harbour and the shipping industry - of the press gangs and of the expedition of Captain Cook to Australia, of shipments of coal and other goods coming and going through the harbour, and of the long voyages of the whaling ships around the world.
It was wonderful to have such an eclectic group of performers as those we had at our first April Dog.