Mundy-Turner House Concert

Review of the March 2006 house concert
By Margaret Bradford
Posted Tuesday, April 18, 2006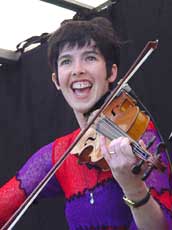 We had a wonderful Sunday afternoon house concert again with the duo Mundy-Turner. They are such a polished, tight act and well rehearsed. Their stories about their experiences are an entertainment in themselves, both are great narrators as well as extremely talented performers and instrumentalists who take their music seriously. They are making quite a name for themselves in UK where they are based.
I can see them being a big hit at the National Folk Festival and Port Fairy Festivals where they are heading at the moment.
If you want an act for your house concert or folk club who sing songs on themes ranging from political, to humorous to love to current events from all over the world and all original songs, they are your act.