Loosely Woven - unique & very interesting

A review of the April 06 concert
By Di Wadsworth
Posted Wednesday, July 19, 2006
Loosely Woven is unique. An amoebic mass of performing musicians, singers and dancers who range from absolute beginners to the classically trained and even boasting a music professor. The group, ranging in age from 20 to 70, ebbs and flows with a constant influx of newcomers, frequent recidivists and a small core of foundation members.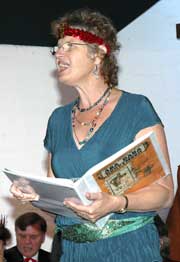 Wayne Richmond began the group in 1995 to provide an outlet for musicians who are keen to perform with others just for the fun of it and to encourage people to come up and have a go on stage with their voice and/or instrument who might not normally feel confident enough to do so. Pure community spirit is what keeps the group on a course of ever changing combinations. Someone in the audience of one concert can be on stage performing at the next if they have the motivation. This is part of the reason why each Loosely Woven concert is so different from every one that has gone before. Another reason for the constant diversity is that everyone involved in the performance contributes their own ideas for the formulation of the event.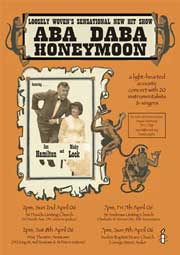 Aba Daba Honeymoon, recently performed at various Northern Beaches venues and at Newtown's New Theatre, epitomised the joie de vivre of the group's members. From Handel and Schubert through Gilbert and Sullivan to Henry Lawson, this band of players kept their audience listening, laughing and singing along. The special touches that Loosely Woven bring to their concerts includes choristers getting up to dance and singers bringing drama and even pantomime to appropriate pieces. My favourites from this concert were a duet between Wayne Richmond and Gial Leslie hilariously reviving childhood memories by singing and acting 'I Said My Pyjamas' and a hauntingly beautiful rendition of Phil Ochs's 'When I'm Gone' by soprano Chris Wheeler and the rest of the singers. However, the whole ensemble truly brought down the house with an outrageous parody of 'Confitemini Domino' which was translated to 'Do You Have Any Dominoes?' And while I'm happy to relate that great irreverence was brought to this and other pieces, due reverence was also paid to the more pensive items. Loosely Woven band members often contribute their own original songs and this concert showcased several of these including two songs written by Ian Hamilton to the words of Henry Lawson and a poignant song by the group's percussionist, Kevin Murray, reflecting on the environmental catastrophy experienced by the people of Easter Island.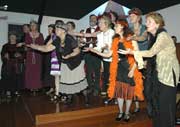 The group of twenty who performed Aba Daba Honeymoon were a joyful bunch of musicians playing between them a mix of percussion, fiddles, recorder, flute, accordion, concertinas, mandolin, harp, keyboard and guitars. Soloists and choir members doubled as dancers and actors. Refusing to use a PA system, Loosely Woven are strictly acoustic as this enables the audience to hear the real sounds of the instruments and voices. It also allows for equal participation by the audience in the choruses. There is always a well set out and illustrated programme for audience members with words for participation where appropriate.
Loosely Woven groupies never know what the next concert will bring, and that's the way we like it! Keep your eyes peeled for the next one and make a big effort to attend – you won't regret it!