Review - Peter Hicks & Southern Cross Trawlers @ The Loaded Dog

June, 2008
By Dawn Davis
Posted Friday, August 8, 2008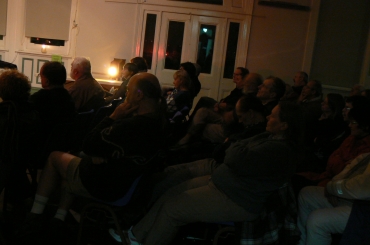 We had more than our usual number of floor spots this time at the Dog and they were very varied. Bob Bolton was our first performer, reciting a poem by John Manifold about a horse called Incognito. Gerry Myerson also sang for us a Yiddish rebel song. He also performed the classic Jonie Mitchell song, Urge for Going. John Warner then sang a whaling song that he had learned from the singing of Dave Alexander.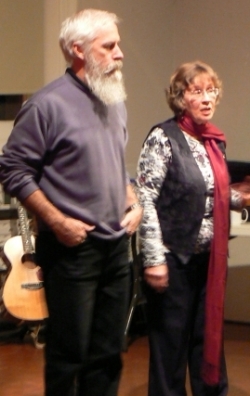 The Southern Cross Trawlers consist of Don Brian and Margaret Walters, who are also members of The Roaring Forties. They sing many different kinds of songs. Many are based around the sea and sailing, and others are of Australian traditional songs of the land and of the union movement. Margaret sang a song of a lonely wife of a sailor. They performed two songs about Australia bush rangers, one by John Warner about Ned Kelly and trooper Kennedy, and the other about Ben Hall. They then sang a song from the collection of historical songs written about the Tolpuddle Martyrs. Don also had his tin whistle with him and gave us a short tune at the end of their last song.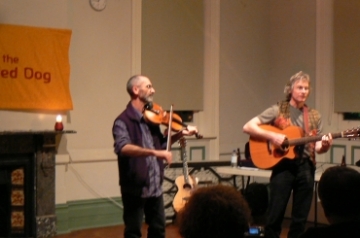 Sandra then introduced Peter Hicks, ably assisted by Ross Smithard whose fiddle playing was exciting and innovative. He began with a song of commentary on the impact of money on world affairs. Next he performed a great chorus song of farewell to John Howard, encouraging him to follow former Prime Minister Harold Holt and swim right out to sea. The audience sang along very enthusiastically. The blues that he performed was wonderfully enhanced by his accomplished guitar playing and that of Ross's violin. We all enjoyed his wonderfully satirical song about the Iguana night club affair. He performed a very moving song about a woman who survived Auschwitz due to food provided by a man wearing a "pink triangle". This woman went on to do a lot of work with AIDS sufferers in Sydney.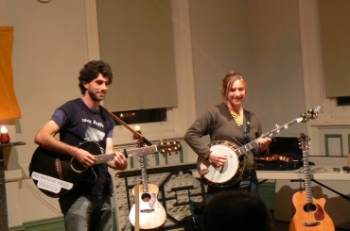 After the break we had a spot from The Lurkers who will be appearing in October, then Peter Hicks returned with some more blues numbers. He sang a very compelling union song protesting against the power of the bosses. They then played a short guitar and fiddle tune set, followed with Our World is Not For Sale, a compelling commentary on the worth of nature and the value of individuality. He ended with Going Down to Glenrowan, a wonderful spoof on the Ned Kelly souvenir industry.
It was a night of great talent and variation in material, which made for a very enjoyable concert at the Dog.