Review - The Shiny Bums & The Lurkers

October 2008
By Dawn Davis
Posted Sunday, November 16, 2008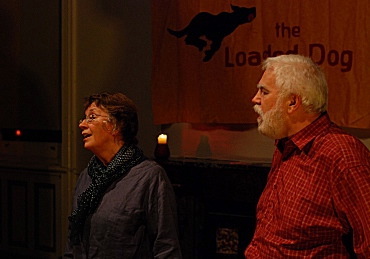 First off, we had a floor spot from Margaret Walters who performed a traditional English song about a maid who is duped by a lover. Then Margaret was joined by some of the Roaring Forties to perform one of the songs from their new CD "Life of Brine". They then performed "The Marco Polo" which was written by a Welshman who was originally a member of the Spinners.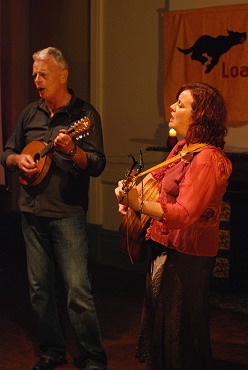 Then there was a floor spot from the Selkie Band, a duo who started their performance by singing "Five Hundred Miles", a song from way back when. Then they sang a Peter Griffin song "Mary". It was a very melodious interpretation and Sarajane sang very sweetly.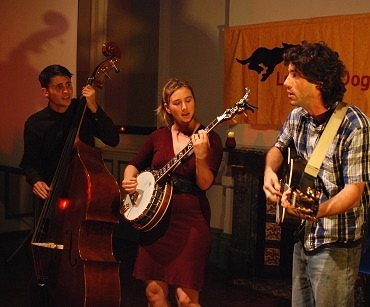 The Lurkers then began their performance. They have a great country and bluegrass style, using banjo, guitar and bass. They began with a traditional-type American folk song "Cindy Cindy", which they followed up with an original, fast-moving tune. They performed a song called "Lay me Down" written about their grandmother, which was a nice tuneful song. They finished their set with a song about climate change.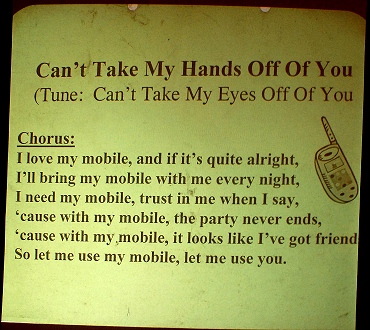 The Shiny Bum Singers are a hilarious bunch of public servants who sing political parodies, play all sorts of weird instruments, and generally have a good time. Some of their funniest performances were "The Bank and the GIO", sung to the tune of "The Banks of the Ohio" about the relationship between bosses and workers. The Maori Haka was a great use of a setting for some vitriol against the Senate Committees. "Phones out of Range" was a hilarious but true lament about mobile phone reception, or lack thereof.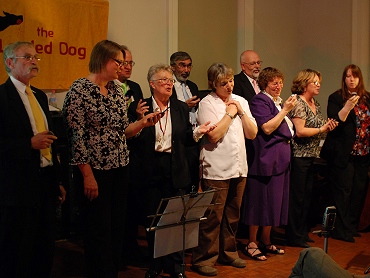 Everyone knows of the frustration of the office fire drill. "Evacuation Serenade", sung to the old tune "Elizabethan Serenade" , contained the whole gamut of uncertainty of the reality of the drill, the general feeling of monotony, and finally the boredom of standing around waiting to be told "you can come in now!" Everyone can appreciate the frustration of a typical office computer malfunction & the Shiny Bums' special Morris dancing take on the situation is wonderfully whacky. The general frustration of the workers is taken out by using computer keyboards as Morris dancing sticks. "The Control-Freak Boss" can never completely forget his job. We all know one of those.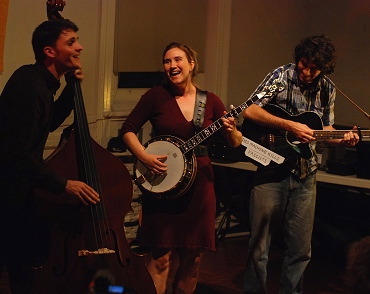 The Lurkers came back for another short set, and their first song was a very hearty, funny pirate song. They performed a few bluesy numbers with great banjo and that good, quick, bluegrass style. They finished off with a very unusual, funny song that gave us all a good laugh about death.
All in all, we had a night of laughs, stirring sea shanties and great tunes. I thought all the performers excelled themselves.
Photos - Bob Bolton