Review - Danny Spooner + Goodly Sport @ The Loaded Dog

September, 2008
By Dawn Davis
Posted Tuesday, November 4, 2008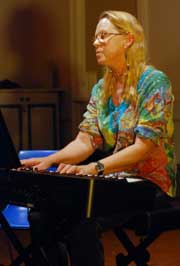 Jenny Lees was our first floor spot. She played keyboard beautifully in a wonderful performance of a poem by a Lebanese immigrant, Chafic Ataya, for which she had composed the music. She also sang "My Young Man", by Kate Rusby, about a miner blinded in an accident.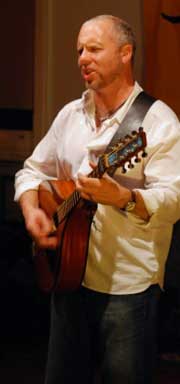 Our second floor spot was Fergus Elliott who is a wonderful bouzouki player. He performed "Soon", which is a song with a driving beat and compelling tune. "Dodger's Revenge" was a song-come-tune. The playing again was brilliant.
Nick Lock is someone we don't see very often at the Dog, so it was good to hear from him. He sang a lovely version of "When the Brumbies come to Water".
He brought his wife Janet up and they performed an interesting duet made up of the Eric Bogle song "Now I'm Easy" intermixed with "The Wife of a Cocky Farmer".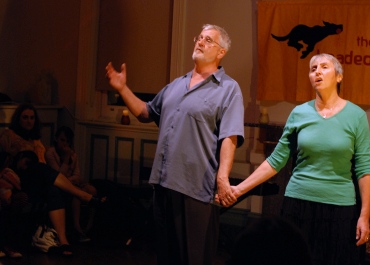 "Goodly Sport" is a beautifully balanced quartet of a'cappella medieval singers. The songs they sing, be they in English, French or Latin, are beautifully arranged and sung in the true medieval style, with close harmony and great dynamics. Some of these songs are quite bawdy and sexy and often quite funny. They performed sacred as well as secular songs and, being a fan of the medieval style of music, I found their performances spell-binding.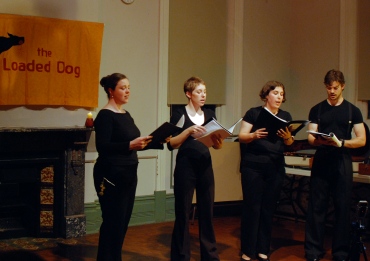 Danny Spooner is one of Australia's best-known historians of sea songs and, as a former tug master on the Thames river, has many stories to tell. His wide musical spectrum extends from music hall to Australian folk songs. He performed pieces such as "Bold Riley", which is a great sing-along sea song of the men who sail for a living. Danny's Aunt Jess was a big influence on his knowledge of songs & he sang some of the songs she taught him. Other songs were "The Bonny Black Hare", a bawdy English song full of double meanings. and "Drink Good Ale" a good English country drinking song with a raise-the-roof chorus.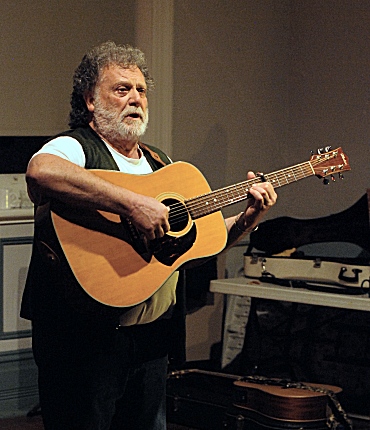 Danny explained to the audience how shanties were used to help give rhythm to the movements of the sailors' work when hauling and furling sails, then sang us a good example. John Warner and Margaret Walters joined Danny for "Tolpuddle Man". One of the highlights of the night was Danny's performance of "The King of Rome", the story of Charlie Hudson, a pigeon racer in Birmingham, England, who in 1913 sent his pigeon off to Rome to enter in a race. All but two of the pigeons in the race were lost in a storm, but Charlie's bird, subsequently named The King of Rome, triumphantly returned home, and when he died was stuffed and is now kept in a museum, where his story is on display.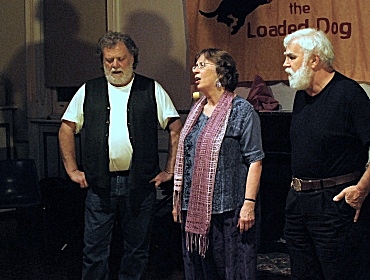 Danny's charm and storytelling prowess made the night both enjoyable and informative.
Photos - Bob Bolton