Review - Wheeze & Suck Band + Charlie Ipcar (USA)

The Loaded Dog, 27th October 2007
By Dawn Davis
Posted Monday, December 24, 2007
We opened with a floor spot from John Warner and Margaret Walters. Margaret started off with a Henry Lawson poem, then John then sang us his powerful song "Whale Road", and they finished with a river shanty, "One More Day".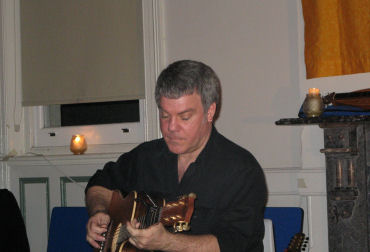 Our second floor spot was from Peter Miller Robinson, who sang "Charles and John", a song he had written when working in the mental health system. It was a very touching commentary on living with mental illness and the problems faced by mentally ill people in the wider community with sometimes little support from the system.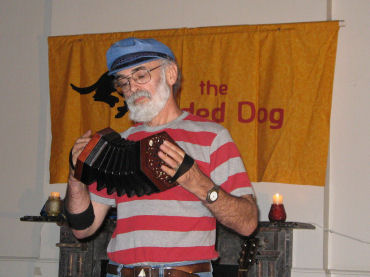 Our next performer - Charlie Ipcar - came all the way from Maine, USA. This was his second visit to the Loaded Dog and his third visit to Australia. Charlie is known to many internet users as Charlie Noble where he shares his extensive knowledge about a range of songs with other Mudcatters. He sings with the group, Roll and Go, and makes a study of the sea and its historical songs. He is indefatigable in his search for obscure nautical poems and in creating musical settings for them. He sang several of these for the Dog audience, and two that were particularly apt were West Indies Blues and Lee Fore Brace, the latter using Gerry Hallom's tune for Lawson's Outside Track. Charlie's banjo had been held up in transit and he had a difficult time adjusting to the borrowed banjo with its improvised fifth string, but should be more relaxed when he performs on the James Craig in mid-November. Charlie has released three CD's as a solo performer, the latest being Old Sailor-Poets Sea Songs.
Performances by The Wheeze and Suck Band are always guaranteed to be exhilarating and lively, and this one was well and truly so. Ian MacIntosh did disappoint us, though, by not wearing one of his usual saucy numbers. Their performance included some of the traditional Morris dancing tunes that formed their roots, but also incorporated new original material written by members of the band. They sang some traditional folk songs, including an old Copper family song, "Gentleman of High Renown", a tale of the hunting of Reynard the fox by the English gentry and their hounds. As usual they interspersed their songs with lively dance tunes which are full of action and very musically skilled. They finished with "Cousin Jack", a song of the Cornish tin miners who, when all the tin dried up in Cornwall, emigrated to Australia and other parts of the world.
Before Wheeze and Suck came back to do their main set, Miguel Heatwole sang us his powerful chorus song "The People have Song". This song is very inspirational and the CD of the same title will be the basis of our next Dog concert.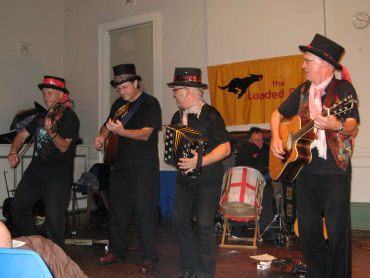 On their return, The Wheeze and Suck band performed songs and tunes from their new CD "Flash Lads". The second was an original song which Geoff Woodhead sang, of the life of a typical Morris dancer. They performed the title track of their CD, "Flash Lad", which is a song of highwaymen. It is their "flash" song, being cleverly punctuated with instrumental gymnastics in which Tony Pyrzakowski uses an electric fiddle. Nigel Walters then sang us his lovely original song "William Walker", which was written after he had been to Winchester cathedral and heard the story of William Walker, who had single-handedly shored up the foundations of the cathedral to impede it slowly sinking into the peat bog it was built on. It describes how, for six years, he worked by diving in what must have been very basic conditions and using very rudimentary equipment. When at last the job was finished a statue was commissioned to recognise him, but the sculptor made the blunder of using the wrong face from a photograph which had two people in it.
For the Wheezers, sea shanties are unusual, but their lovely interpretation of Roll the Wood Pile Down and then the energetic Yeller Girls were cleverly put together and very entertaining. They played the instrumental version of the traditional northern English song "Elsie Marley", which is one of my personal favourites and finished the evening with a hilarious song called "The Day the Virgin Mary Came to Coogee", about the head of the Virgin Mary which seemed to appear on a fence post at Coogee and the resultant scramble by hordes of people to catch a glimpse or make a quick quid.
The energy in the Wheezers' performance creates a great atmosphere which always communicates to their audience. They use their incredible charisma to ensure that everyone participates in, rather than just watching, their performance. I'm sure I speak for everyone when I say that I went home on a high.
Photos - Judy Barrows. More of Judy's photos on the Dog's photowewbsite.