Review - George Papavgeris + Walters & Warner @ The Loaded Dog

March, 2008
By Dawn Davis
Posted Sunday, April 13, 2008
We had the pleasure of welcoming, as our main act, the wonderful George Papavgeris, a singer song writer from England. He was ably supported by Margaret Walters and John Warner, two of Sydney's best-known performers.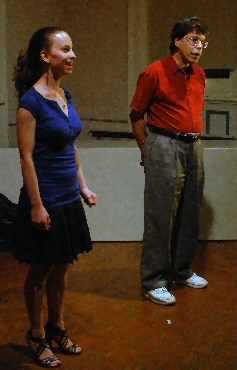 Our first floor spot was from Gerry and Sarah Myerson. They sang one song which they had learned from the Weavers called "Man from Egypt". They will be performing as a duet at the National Folk Festival and are well worth seeing. They sing some of their songs in Hebrew, which makes for a very different and somewhat unusual performance.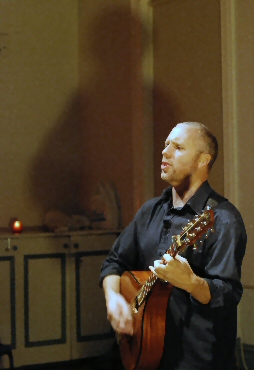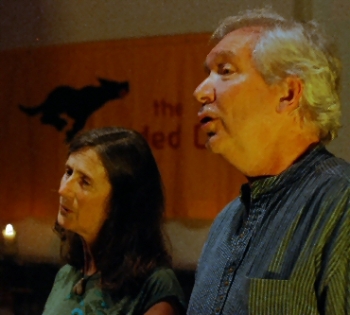 Other floorspots came from Fergusson Elliott, who hasn't been to the Dog since the days of The Creel, and Bob & Margaret Fagan, who appear more regularly!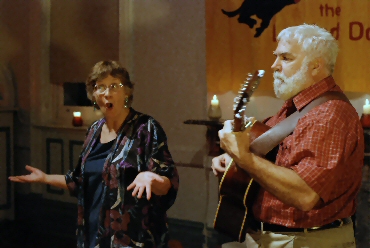 John and Margaret performed, both individually and as a duet. John sang his song "Horses of the World" which tells of the ways the horse has contributed to our lives over the years. They sang a song of the bushfires that destroyed the Gippsland forest in the 1890s and the song of the lone piper on the hilltop in the Brindabella Range. Margaret sang "The Black Fox" about the victory of the fox over the huntsman when the fox becomes the Devil. They also sang "Jacob's Well - a rousing hymn with a good chorus.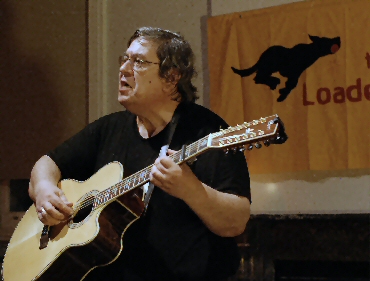 George Papavgeris performed some wonderful songs for us. His songs are very personal, everyday songs. They deal with problems in society and songs of friendships and loss. His singing style is easy and engaging and the Greek influence in his music makes his songs incredibly vibrant and rousing. The highlights of his performance in the first half were the very evocative song of childhood memories of going to church services in Greece and the dancing and celebration that follows special occasions. His song "Any Town" is a serious indictment of the anonymity of many towns and cities throughout England, and their street life after dark.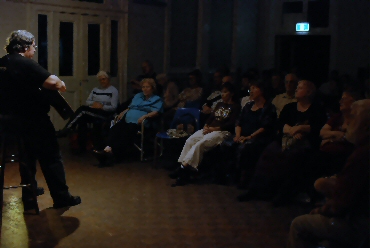 George then sang some songs from his new CD. He sang a song inspired by his father's final weeks of life. He then performed one of my personal favourites, "The Bite of the Underdog", which is just a humourous look at the social hierarchy in our society both in the workplace and in general. His song "The Miracle of Life", is a lovely song looking at the world with hope, thankfulness and joy rather than seeing only sadness and depression.
George's songs, and their different subjects, cover a wealth of emotions and are easy to identify with personally.
Photographs - Bob Bolton