Review - Fred Smith + Choir on a Wire @ The Loaded Dog

February 2009
By Dawn Davis
Posted Monday, March 23, 2009
To whet our appetites Jenny Lees commenced proceedings with a short floor spot singing Carole King's Will you still Love Me Tomorrow. Jenny has a very sweet voice, and her skilful piano playing enhances her singing very well. Her second song was a verse by Lebanese Australian poet Chafic Ataya that she set to music which had an ethereal quality that quite engaging. Dennis Aubrey followed with several of his own compositions - The Bag Lady's Waltz, The Street Serenader's Blues & a song about the kid who went fishing, got bored & ate the Worms. We hope to see him more regularly at the Dog.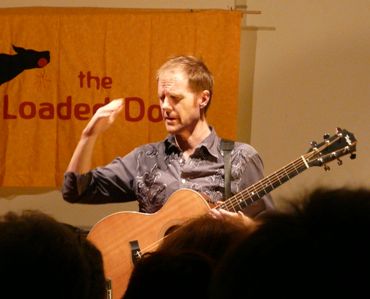 The ranks of the Dog were swelled with a lot of Leonard Cohen fans this month as the first of our featured acts was "Choir on the Wire", whose repertoire is specifically Leonard Cohen. For we greying hippies who grew up in the sixties Cohen poetry is well-known and loved and it now seems to be finding an audience with young people of today. They have been together for quite some while but the recent visit from Leonard Cohen to Australia made them come back together again after about a year of silence. Of course their first song was the famous "Alleluia" which has seemed be performed a lot recently perhaps because of the Choir of Hard Knocks performances. The performance of the choir was generally very tight and their song arrangements were pleasing. They were obviously enjoying performing together. I felt that some of the songs could have had greater dynamics and variation in colour. There are many stories of who Suzanne is but the choir's performance of the song was great nonetheless. The Sisters of Mercy were there too, to cause some reflective thinking of misspent youth.
Fred Smith is developing into something of an icon these days. His wit and interesting view of the world and politics reminds us that we should never take ourselves or our ideas too seriously. He has a great original style and talent and in keeping with the Leonard Cohen theme of the night he sang a song based on the music of Cohen to start his performance.
He chose to perform his own songs written both in Australia and from the time that he recently spent in the USA mostly from his Texas CD. Texas Skies was wonderful.
After the break, there was a floor spot from the Selkie Band, launching their new CD. They sang Shenandoah in a slightly different arrangement than I was used too which was really nice and gentle. This was followed by Wayne Gillespie singing his hit "Geriatric Blues" a very funny song, a litany of all the ways our bodies slow down as old age takes hold.
On Fred's return he sang songs from the blues to the tuneful using guitar and harmonicas and lots of dynamics, Few people can sing in a whisper. I really loved the emotional "Say a Prayer Maryann".
Fred's performance was engaging and moved from the political to the personal with some hard edginess and revealing insights. Its interesting to hear him without Liz Frencham as the feeling is more spare and simple. He will be performing with the Spooky Men shortly which should be fun and deeply meaningful of course. The audience were very appreciative of his performance.
Photos - Mike Young