Bright Star Singers Concert

Review of concert at Croydon, Nov 2006
By Mary-Jane Field
Posted Monday, November 6, 2006
We had a wonderful time at our concert on Saturday afternoon, November 4th, and all of us in the Bright Star Singers would like to thank the people who came along to support us and enjoy the event.
I've been asking myself, what was the highlight?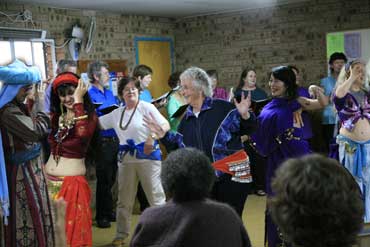 Apart from the singing, which I think everyone enjoyed, there was the bracket of graceful belly dancing with Marlene, Michiyo and Sonya. What does that have to do with choral singing, you might well ask . . . Well, we did sing a song in Turkish and the belly dancers joined us and even got the audience up to dance, too, complete with scarves and - some at least - swiveling hips.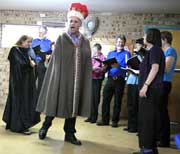 Then there was our 'production number' for the Christmas carol, Good King Wenceslaus, with King and Page resplendent in their costumes and dramatic actions.
There was the opportunity to sing a South African freedom song for a visiting African woman who had been involved in the anti-apartheid struggle for many years.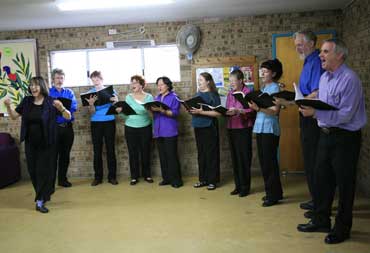 Bright Star Singers: Mary-Jane Field, Don Meharry, Susan Pucci, Susan Davitt, Maggie Huang, Jennie Richards, Rosemary Friend, Liz O'Connor, Peter Weitzel and Bill Bekric.
And let's not forget the delicious sweet biscuits from a local Ashfield pâtisserie, now a tradition at our presentations. (We will, however, try and forget the moments when one of our singers was locked in the bathroom, thankfully rescued by another chorister who opened the door with a makeshift screwdriver!)
All in all, it was an eventful and wonderful afternoon and we do thank everyone who participated.