Visions - Review of Joseph Tawadros CD

Evocative Egyptian music for oud
By Julius Timmerman
Posted Saturday, October 7, 2006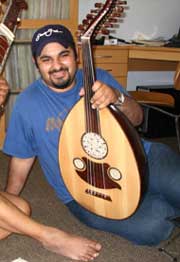 Egyptian-Australian oud player Joseph Tawadros and his percussionist brother James play compositions of Joseph's on this very nicely presented private pressing.
Most of the tracks are oud solo and recorded live. There is however no noticeable audience noise of any kind and the quality is excellent.
Joseph and James are both virtuoso players, and they play as one with not a note out of place. Joseph's compositions are thoroughly engaging, with a typical evocative Arabic desert feel.
Try and catch him in concert and/or enjoy this disc.
JT2005 (www.josephtawadros.com)