The Red House – Heritage of the Scottish Fiddle

Review of Chris Duncan, Catherine Strutt & Julian Thompson CD
By Julius Timmerman
Posted Friday, November 10, 2006
There's something special about Scottish traditional music. It has its very own defining lilt, rich varied tunefulness and evocative character that fit so well with the country's stark yet colourful terrain, changeable weather, isolation and dignified spirit of its people.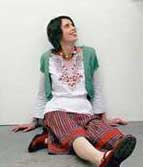 The three artists on "Red House" are totally attuned to that uniqueness and spirit – they know this music well, very well. Fiddler Chris Duncan was a NSW country boy who, when he was a teenager, became one of the pioneers of Scottish music in Australia. He's been well known all over the country for many years for his performances, especially at Scottish dances, his workshops and his work with fiddle clubs. One of his inspirations has always been legendary Scottish fiddler Alasdair Fraser, and it would be fair to say Chris is Australia's Alasdair. Chris's previous album for ABC, "Fyvie's Embrace" has sold over 11,000 copies. As a teenager Catherine Strutt joined her parents bush band on piano, before undertaking extensive Celtic Music studies in the US, including at Alasdair Fraser's Valley of the Moon Music School in California. She is regarded as one of the finest Scottish-style piano players in Australia. Catherine and Chris have been entertaining audiences together since 1990. Cellist Julian Thompson is Principal Cello with the Canberra Symphony Orchestra but combines his busy classical schedule with performances in folk music, especially at folk festivals.
There's a strong empathy between these players. Each has his or her turn at the lead, or plays solo, but the high level of artistry means they're always right in the same musical space. Tunes are either on their own or nicely grouped in sets, arrangements are fluid and interesting, and there's an agreeable mix of dances and airs. From the mystical, to the earthy and on to the transcendent, the listener is carried comfortably along from one mood to another.
A number of sources old and new are used, from 18th C. manuscripts like Walshe's Country Dances, McGibbon's Scots Tunes and Petrie's 2nd Collection of Strathspey Reels and Country Dances, to the 19th C. Ryan's Mammoth Collection, to 20th C. ones like The Archie Allan's Scottish Violinist and David Gordon's Nineties Collection. There are also tunes by Chris Duncan and Muriel Johnstone. Extensive interesting notes on the music's origins are included.
A great deal of love and dedication has been lavished on this album, and the beauty of the cover photo of the famous Black Rock Cottage on Rannoch Moor near Glencoe in the Scottish Highlands perfectly matches the contents.
ABC 4768036