Let Isabelle Out

Craig Dawson and Simone Olding CD Review
By Blind Hector McPhee
Posted Sunday, July 3, 2005
The following review from a guy who calls himself "Blind Hector" was sent to me via email. Tongue in cheek it is - but what a review! - Craig Dawson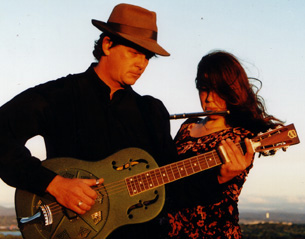 Dawson and Olding . . . This CD was thrown across my desk along with a plethora of other amateur folk, rock, and blues artists seeking their own small pocket of popularity in order to break the constraints that life has currently shackled them with. Dreams and hopes, aspirations and fantasies of creating music the developed world craves and embraces and most importantly pay over inflated prices for.
Does each artist dream of cars, inner city acreage and an unbridled level of consumerism that would make even the most capitalistic American sigh in disbelief?
is this what music has come to?
As I am currently subjected to the same never ending pop tune from another lithe 18 year old enticing me with an abundance of sexual connotations I pause a little longer on this question . . . is this what music has come to . . . an endless parade of barbie and ken clones churned out with factory like precision . . . less than 0.02% acceptable error, efficiency, downsize, upsize, and lets lose the middle management?
With this effervescent and overtly accepting attitude I reached across for the next plebulus dronings of what I assume to be more commodified crap. As fate would have it the CD was Let Isabelle Out by Craig Dawson and Simone Olding. This CD is reminiscent of the true artistry of Folk music. In an almost bygone era - folk was considered the flaneur of society. Folk music was analogous to the court jester who through parody and resistance informed the public of perceived injustices in order to prompt and question our own sense of morality.
rich tapestry of insights into modern society
Dawson and Olding's music poses the question – Their unique lyrical blend of satire and apocalyptic drama begs for answers in a contemporary musical epoch that politicises and justifies economic, ecological and sociological mal-practice. Simply put - this double CD provides a rich tapestry of insights into modern society that serves to question our morality, our lust for consumerism and our almost contradictory and hypocritical longing for the communal epoch that has now past us by.
haunting harmonic overtones
Dawson and Olding combine sublimely to produce an accomplished acoustic melody that is often in stark contrast to the haunting harmonic overtones that ripple with overt tartness, as a constant criticism of societal actions and processes. This is particularly evident in wasteland on the edge of town and the introduction to high water rising – an obvious satire of current water restrictions. The double CD commences with the creation of a solemn environment that then subtlety leads us through a complexity of societal concerns before finishing with a direct question:
Do you suppose it's too late for change?
As I ask myself that question and reflect back on my original musings of the consumerism of modern music I say – "Scab take action now!"