Let Isabelle Out

Craig Dawson & Simone Olding CD Review
By Mart & Jude Fowler
Posted Tuesday, June 21, 2005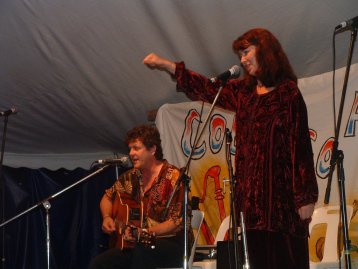 Craig Dawson and Simone Olding have just released their new double CD Let Isabelle Out. This new work represents their individual styles, with his and hers CDs. Both Craig and Simone are very talented singers and musicians, which is showcased on both CDs.

The first CD contains 9 tracks from Craig, with a blend of musical styles including contemporary ballads, blues and Hawaiian slide guitar. They are a mix of haunting and questioning hard edged songs with thought provoking lyrics. Craig's hallmark is his fabulous deep resonating voice and talented guitar playing which are very evident throughout the CD. Some highlights are the poignant symbolic 9/11 song 'The Dove', a powerful metaphor for the breakdown of peace, and the instrumental title track 'Let Isabelle Out' which features Craig's guitar playing in a more playful mood.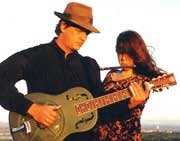 The second CD contains 11 tracks from Simone, influenced by Celtic and English folk traditions. This collection includes lyrical ballads and light hearted songs in Simone's beautiful voice. The musical arrangements are very effective, never cluttered but with a good variety of instruments. Simone is a very accomplished musician and plays a wide variety of instruments including flute, mandolin and bodhran. Some highlights are the light hearted song 'Suburban Cowboy', a parody on city life, and 'Rover' about how the lack of compromise leads to failure of relationships.
Craig and Simone provide their beautifully balanced harmonies on many of the songs on both CDs. This is a double CD set with something for everyone.
CD set is available from the Let Isabelle Out website or Craig & Simone's website.
Mart & Jude Fowler, Northside Folk, Triple H 100.1