Full House

Review of new Wheelers & Dealers CD
By Mary-Jane Field
Posted Monday, December 3, 2007
By now, no doubt, lots of people in the folk scene and beyond have heard the talented Wheelers and Dealers group with their current repertoire and their recent album, Full House. Some people might even be thinking, "Yes, we know they're great" with an almost -- dare I say it, but I hope not -- ho-hum attitude: "So what else is new?"
Well, lots is new. I think it is important to recognize that this formidable group has put together an album that is not only wonderful in its own right but is also a tribute to the Anglo-Celtic tradition that binds so many countries, ranging from the bluegrass tradition of the United States to Irish dancing to Australian bush ballads.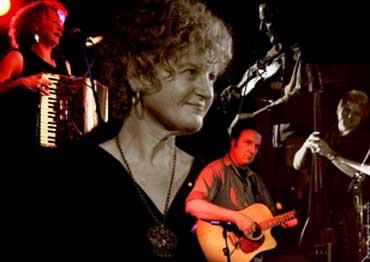 Each individual song is perfectly crafted and presented, with haunting arrangements and, in most songs, Christine Wheeler's graceful and lovely voice. But taken as a whole it is also an important body of work that highlights a cultural movement that is central to folk music, whatever the genre -- that of recognizing both the differences and the common features that blend across musical traditions and, in the end, unite us all.
Yes, it's part of multiculturalism!
Of course, I know that I am unashamedly biased. I am just fascinated by folk music from all over the world. And I am also committed to using the (much-maligned) term, "multiculturalism" to mean more than just "them" from other cultures but to involve anglo and Australian styles (both contemporary and traditional and certainly including Aboriginal music). So to me this album is a big contribution to a cohesive ethnic feel and sound.
But that's not the only reason listening to this album was such a joy for me, for it is, of course, arresting and beautiful music, for its very own sake. Within the over-all structure there is plenty of variety and the proficient and sensitive musical arrangements are striking, just right for each song and never dominating. In fact, it is Christine's voice that dominates the album, and while there have been moments that I wished for more from the others her singing fits each song so well that it seemed fine in the end.
Any songs collected at the poker table?
Full House as a title . . . beefed-up line-up of top-flight musicians, maybe. But some of the songs could have come from around a seedy poker table in the South of the United States, I'm sure! They are certainly in the style, anyway.
The liner notes suggest a "bright idea about the contemporary Australian relevance" for the Stephen Foster song, "Hard Times," even though it dates from a far distant time -- the mid-19th century -- in the USA. Be that as it may, I know that the Wheelers and Dealers version is becoming the version. Every time I try and introduce a slightly different way of singing it to any of the choral groups I work with, they keep reverting back to the way Christine sings it! Obviously, people are listening to Wheelers and Dealers.
And so they should be. In re-listening to the album as I prepared this little review I was intending to simply touch on each song as a reminder. But I soon found myself listening from start to finish and in the end I just sat back and enjoyed the music.
The album is available in music stores through the Planet Company or directly through the Wheelers and Dealers web site.