Between Two Shores - Wins Best World/Celtic CD 2006

By Pam Merrigan
Posted Wednesday, April 18, 2007
"The Rich Heritage of Irish Music is strongly repesented in this finely crafted album."
Between Two Shores has just been voted by popular acclaim as Trad & Now's best CD of 2006 in the World Music (including Celtic) genre. Alan Blakelock reviewed the CD for Trad & Now back in June last year when it was first released. Here's some of what he had to say.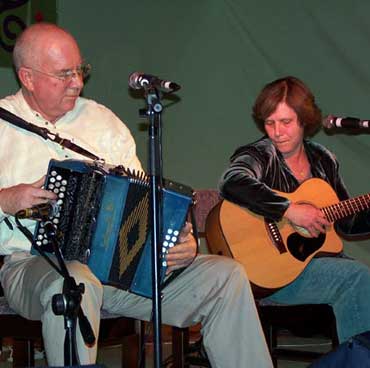 "Traditional songs and airs are given a freshness that makes for enjoyable listening. Songs and instrumentals are cleverly mixed and matched - as in the opening track, where Pam's rendition of Girls of the Shamrock Shore flows into a lively reel by Norm on the button accordion. The haunting lyrics of Man from Connemara deal with maintaining identity whilst living in a new country. This connection between Ireland and Australia is the central theme of the album.
Mood and style shifts in the three tunes Cape Clear/Down By the Glenside/Crested Hens. This is arguably one of the best tracks on the album. Pam's solo whistle at the beginning is as good as it gets. The album has excellent variety and balance. This is achieved by the quality and diversity of instruments played by the Merrigans. Highly recommended! 12 tracks 53 mins" Read the full review in Issue 16 of Trad & Now.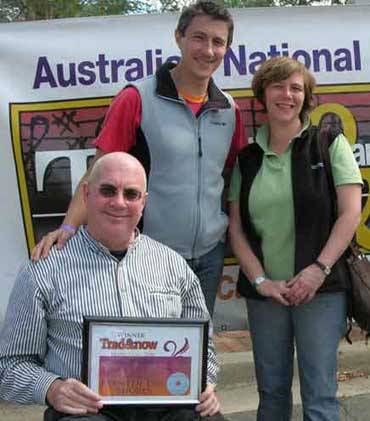 The Merrigans received their award at this year's National Folk Festival. Catch them in May when they perform with their band Coolfinn Mac at The Shack Folk Club on Sydney's northern beaches or, at the Berry Celtic Festival.
Visit the Merrigans new website to hear clips from their latest CD Here to There and to find out about their new band Coolfinn Mac. Join their email list to receive all the latest information. Email info@coolfinnmac.com.au