Rhymer 'shows' his form at the "Ekka"

Latest news from "The Rhymer from Ryde"
By Graeme Johnson
Posted Wednesday, June 1, 2011
Report on the Royal Brisbane Show "The Ekka" Bush Poetry Performance Competition Aug 2011
"Rhymer" shows his form to win 2 titles at this years "Ekka"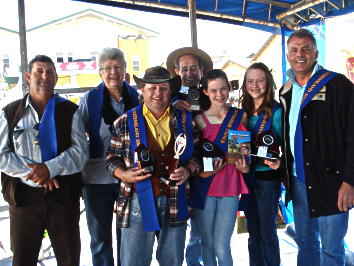 Performance Bush Poetry has long been an integral part of the Royal Brisbane Show landscape and the wide scope of arts, crafts & animals that the "Ekka" showcases every year at the Exhibition grounds.
Now in his 11th year as one of the "Featured Poets" working with Trisha Anderson's troupe of colourful characters (otherwise know as Bush Poets.) Graeme and a range of the country's best versifiers entertained the Brisbane Show crowds at various locations around the site for the 10 days of the event.
Highlight of the Bush Poetry calendar at the Show is the annual Bush Poetry Competition sponsored by the RNA Show Society held on the 1st Saturday.
As the Gregory Terrace grounds of the Show are currently in the midst of major renovations of the site a number of competitions/performances had been transferred to makeshift stages scattered around the Oval and this years Bush Poetry Competition happened to be one of those. Not quite the ideal conditions for our competitors or audience.
Anyway, as they say, 'The show must go on', and 'go on' it did, albeit to a slightly smaller crowd then usual. Glad to say there was no drop in the quality of said performances though.
Females competed against Males as each of the competitors went at it 'hammer and tongs' to give their very best to the crowds at hand.
Winner of the Original Section was Graeme Johnson (of NSW) whilst Kevin Dean took out the Established section.
Graeme performed an original comedy poem called "Barbie Town" that satirises the characteristics of people from different suburbs portrayed in a line of "Aussie" Barbie Dolls made in their image. The poem is from his current 2 CD release called "Home Brew".
Graeme also won the coveted "Bobby Miller Memorial Award" for Best Overall Comedy over the 2 sections with the same poem. He last won the title in 2009.
Royal Brisbane Show Competition Results 2011
Original
1st Graeme Johnson
2nd: Paul Montague
3rd: Kevin Dean
Established
1st: Kevin Dean
2nd: Tom Maloney
3rd: Cay Ellem
"Bobby Miller Memorial Award" (for best Comedy)
1st Graeme Johnson