Review of James Craig Session

Thursday 11th February 2010
By Grant Platt
Posted Wednesday, March 3, 2010
Last evening I headed to Darling Harbour after work and was surprised to get there in about half an hour after getting an express bus from the UNSW and then a tram from Central station to Pyrmont Bay (near star City in Darling Harbour).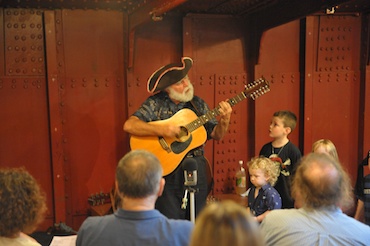 I had an interesting evening singing sea shanties and other songs, both traditional and newly created, aboard the James Craig tied up at wharf 7 which is in the Maritime Museum area of Darling Harbour. The location down within the bowels of the sailing ship really set the atmosphere in a perfect manner. 
As well as singing there were creative types who recited poetry. The participants enjoyed a lovely intermission with an extensive savoury and sweets supper, the singing of birthday songs and cakes for those who didn't worry about their figures.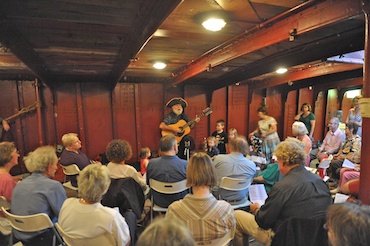 The occasion was to mark birthdays for both John Warner, and I think, Sandra Nixon. 
The songs were diverse and some were funny or ironic. In the old days sailors travelled the world living on vegetables until they ran out and then were forced onto salted meat. One song related to the sailor's dislike of this dubious fare by having the lyrics "dead horse, dead horse, though you've been dead this twenty years". Apparently sailors used to be able to carve the old meat into objects of art. Many song stories had the real feeling of old maritime life such as with the lyrics `where stormy winter blows'.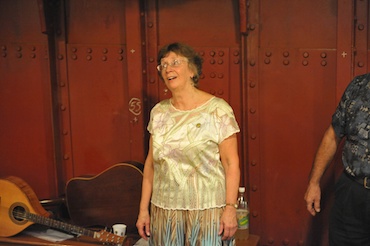 Margaret Walters sang Shallow Brown with the assistance of several others. Included lines "I'm bound for to leave you… Shallow Brown". Anderson's Coast was a great song which apparently put John Warner on the map as a folk singer. `But Annie, dear, don't wait for me, I fear I shall not return to thee, There's naught to do but endure my fate, And watch the moon, the lonely moon, Light the breakers on wild Bass Strait'. 
Other songs were contemporary and included The Yuppie Song which extorted us to buy everything to keep up with everyone else. Marketing people and capitalists would have loved it.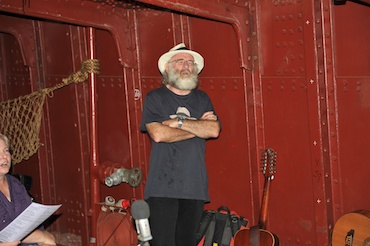 I sung along heartedly to `Join Your Union' which was to a familiar tune and so I sung with great gusto ("join your union, join your union, Friends, we need our unions now, Friends, we need our unions now".). A woman unionist, and I assumed feminist, sang a song about Tony Abbott (the Liberal Party Leader) which mocked his advice to his daughters to save themselves for their husbands so as to give a precious gift. The lyrics included pithy lines such as "a woman's much more than a hymen". Rather than giving advice to her daughters to save themselves she advised them to "practice".
There were many musical handouts with choruses and notes on the artists and their histories so I have more resources but sometimes think I should resist more and reduce my ephemera. To some it's junk to some it's treasure.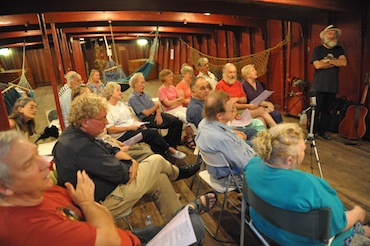 Before leaving New Zealand I sent boxes and boxes of social and political ephemera to the Hocken Library in Dunedin. They collect such material for historical research and as an archive. 
James Craig was originally named Clan McLeod when launched on the 18th February, 1874. It is a 3-masted barque which was built in Sunderland, England. After about 60 years of active service it was sunk in the 1930s in Recherché Bay, Tasmania. After refloating in 1972 and 1973 and being traditionally renovated it regained survey on 6th July, 2001. 
The ships are an important part of Australian history with six million crossing the world to settle in Australia in one of history's great migrations. A hundred nations have been represented. There are interesting tales on the memorial wall beside the museum from those that have immigrated or sort refuge here. Tu Do, a Vietnamese refugee boat person made the move in 1976. Tan Le arrived in 1981 and attributed to him were the words "[there's] so much room in Australia. You can understand the feeling, because after 5 days and nights cramped in this small little boat and three months in a refugee camp with lots and lots of people, the space was just magic".

Sydney Heritage Fleet www.shf.org.au Bookings (02) 9298 3888 
Grant aka "Curly".