Think Global – World Christmas

Review of compilation CD
By Julius Timmerman
Posted Saturday, October 13, 2007
If you're sick of the Vienna Boys Choir, Bing Crosby and Mariah Carey doing the Christmas thing over and over, try this World Christmas album this year. It's about as different as you can get.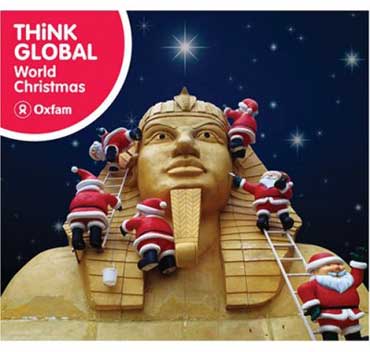 There are fourteen tracks, all inspired by the Festive Season but quite a mixed bag stylistically, from the far flung corners of the world – Central America, USA, Canada, Africa, Europe, the Mediterranean and Ireland. The album opens with Salsa dance numbers, African rhythms and a West Indies serenade to get the party happening before it tones down a little with the harmonic vocals of Puer Natus from Italy's Baraban, a sweet O Holy Night sung by Heidi Talbot from Ireland's Cherish The Ladies, and a traditional Swedish song. Then there's the weirdest Santa Claus Is Coming To Town I've ever heard from Joseph Spence (even the Chipmunks have nothing on this one), a beautiful Cajun Night Before Christmas from the Basin Brothers, a choral Celtic Noel from Brittany, a lovely Bulgarian winter song, a Christmas folk song with the beautifully distinctive voice of Hungary's Marta Sebestyen, and finally a poignant Go Tell It On The Mountain from Alison Krauss and the Cox Family from the US.
This is a fun album, just under an hour, with some unusual inclusions and high quality recordings throughout. It will put spice into your Xmas function.
OXFAM/WORLD MUSIC NETWORK THiNK104CD (thru MRA)