Think Global – Women of Africa

Review of CD compilation
By Julius Timmerman
Posted Wednesday, January 2, 2008
This is a well-chosen compilation of songs that eminently showcases the enormous depth of female talent emerging from Africa. It simply bristles with powerful and distinctive music-making, all beautifully produced and recorded.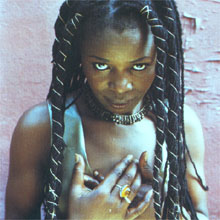 There's Sally Nyolo who ten years ago returned from Paris to her native Cameroon, the soaring voice of Malian Oumou Sangare with her traditionally-based Wassoulou style, Ethiopian superstar Gigi with her earthy fusion sound, the deep soulful Rokia Traore from Mali, Ethiopian-Italian Saba who has just made a lively debut album, the effervescent Vakoka from Madagascar, South African legend Miriam Makeba and heaps more.
Nicely presented, this varied album is simply delicious.
OXFAM/WORLD MUSIC NETWORK THiNK106CD (thru MRA)