Think Global – Salsa

Review of compilation CD
By Julius Timmerman
Posted Thursday, December 13, 2007
Salsa has its origins in the 1940s in New York where Afro-Cuban jazz became a hit after the war. In the 1970s the broad term salsa was coined and once again New York was the focus of this rhythmic Cuban/Puerto Rican dance music. After some decline in popularity in the 80s and 90s, salsa has had a resurgence and is now a truly global phenomenon.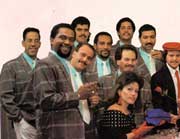 This fine compilation features over an hour of Latin salsa on 14 tracks, with leading exponents such as Wayne Gorbea, Ricardo Lemvo, La Excelencia, Adriana Santana, David Cedeno, Ray Ramos, Sonora Carruseles, Rigo Y Su Obra Maestra, Son De Madre and others.
All finely recorded with an attractive packaging, this album of bright brassy dance numbers is recommended for Latin music lovers.
AMNESTY/WORLD MUSIC NETWORK THiNK105CD (thru MRA)