The Red River

Review of CD by Micah Blue Smaldone
By Julius Timmerman
Posted Tuesday, September 22, 2009
On listening to the opening track on The Red River for the first time, I couldn't help wondering if this guy was going to go beyond two chords on his guitar, but then realised, as the lovely backing vocals crept in over his chant, that he was getting a lot out of a little and it was actually quite mesmerising. Despite minimalist accompaniment throughout the album there's still plenty of variety, and it grew on me with each playing as I was absorbed by the alluring gospel-like soul and spirit that imbues each of these plaintive rural songs.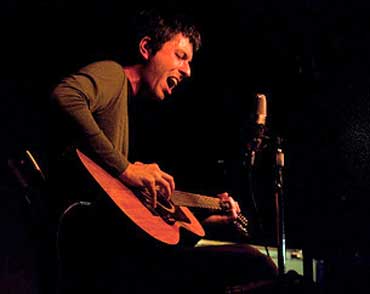 Micah Blue who hails from from Portland, is a moody contemporary version of Cat Stevens. On this his third album, the songs are all equally fascinating, with introspective lyrics that are sometimes dark, sometimes hopeful, but always evocative with plenty of interesting imagery, like an outpouring of spontaneous thoughts. His elegant relaxed voice varies as the song demands, from delicate to strong, while the accompaniment, whether it's his own stylish acoustic guitar with its neat flourishes, muted cornet, strings, brass, hushed electric guitar or chorus vocals, always blends unobtrusively in a neatly balanced palette.
The bonus live track on the Australian disc is a beauty – "I'm Going Home", a rousing ballad whose guitar accompaniment brings backwoods guitarist John Fahey immediately to mind.
A bit American, a bit European, this is one of those enigmatic albums that's a bit hard to categorise, and will make you keep coming back and finding something else.
THINK1010 (Fuse Music)