The Old Simplicity

Review of Niamh Parsons CD
By Julius Timmerman
Posted Friday, December 22, 2006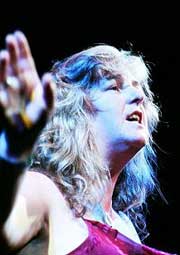 There's an attractive homespun quality on this mellow album of traditional and contemporary songs from Niamh Parsons. While a few songs are a cappella, Grahame Dunne provides the main accompaniment on guitar, and there's a smattering of bass, violin, mandolin, bouzouki, accordion and strings. The song arrangements are basic, and while one might wish for a little more pizazz from the accompanists, there's plenty of room for Niamh's warm enticing voice to take centre stage.
These are songs of war, aging and injustice, reverently and sensitively voiced. The traditional material includes a delicious rendition of "Poor Irish Stranger" and a powerful solo "Ye Rambling Boys of Pleasure". Among the newer songs are three heartbreakers, including the title track, by Alastair Hulett, and one by Linda Thompson, a sweet lilting "No Telling". Grahame Dunne provides diversions with traditional and original instrumentals.
Despite the understated accompaniment, Niamh's passion matches the moving poetry, making for a congenial experience in the gentler side of folk music. An ideal fireside album that would complement a good wine perhaps?
GREEN LINNET GLCD1232 (PLANET DIST.)